Over the Shoulder
A look back in time from the files of the Sunnyside Daily Sun News and Sunnyside Sun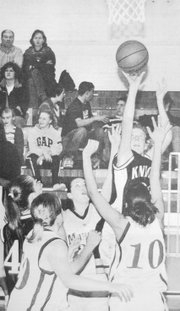 110 YEARS AGO... (1903)
Members of the Euclid-Belma meetings organized a Presbyterian church, uniting members from the communities of Sunnyside and Grandview.
90 YEARS AGO... (1923)
Sunnyside's Ladies Aid of the Christian Congregational Church elected its new officers, including Mrs. W.S. Fleming as president and Mrs. Fred Langford as vice president. Mrs. Guy Overholt was named secretary and Mrs. Fred Emery was elected treasurer.
80 YEARS AGO... (1933)
Sunnyside contractor Harry Gochnour was pleased with warmer temperatures that provided him the opportunity to complete two roofing projects on the old high school building.
70 YEARS AGO... (1943)
Lt. John Heffron Jr., son of Mr. and Mrs. John Heffron of Sunnyside, was presented his silver wings as a newly qualified AAF combat navigator.
Charles Syria was elected worshipful master during the annual election of officers at Sunnyside's Masonic Lodge No. 138.
60 YEARS AGO... (1953)
The Sunnyside Grizzly basketball team split its two road trip games against Kirkland and Bothell. Sunnyside's Bob McCarty and Don Ayler combined for 30 points to give the Grizzlies a 67-53 victory over Kirkland, but Bothell defeated the Sunnyside team 45-38 the following night.
40 YEARS AGO... (1973)
Sunnyside Superintendent of Schools Ralph Pistorese announced schools would be closed an extra two days during the Christmas break to conserve energy.
Sally Aiken, a senior at Sunnyside High School, and Bob Baker, a Grandview High School senior, were named the Elks Youth Leadership Contest winners. The teens received $100 each for their efforts.
30 YEARS AGO... (1983)
Jim Honeyford and Roy Anciso were sworn in as the newest elected Sunnyside City Council members.
20 YEARS AGO... (1993)
Sunnyside City Manager Leo Fancey told citizens that improvements at the intersection of Yakima Valley Highway and East Lincoln Avenue would be made in anticipation of the construction of a 20.8-acre Wal-Mart store.
"Rudy," starring Sean Astin, was showing at Sunnyside's Eastway Cinema.
10 YEARS AGO... (2003)
Sunnyside City Manager Dave Fonfara was named a candidate for the city of Chelan's city administrator position.
The first reported case of Mad Cow Disease in the U.S. was confirmed to originate with a Holstein that came from Bill Wavrin's Mabton dairy.