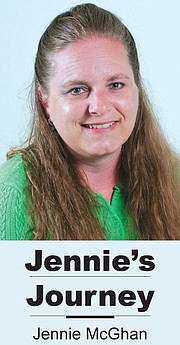 I think one of the reasons we celebrate the New Year with revelry is the feeling of hope that is brought upon us during this season.
The New Year brings with it longer days, as Winter Solstice is behind us. This signifies a change and the hope that spring will arrive in just a few months. With spring will be new life emerging from the soil.
The New Year can mark new beginnings for some. There are people who each year make a New Year's resolution. There are people who vow to lose weight, stop smoking, spend more time with friends and family, and to learn something new.
Others of us realize our shortcomings and don't make a resolution.
However, we still hold out hope that the New Year will bring with it some experience that will be memorable and exciting. It's not the change of time, but the changes individuals wish to make in their lives that make the New Year special for me.
I want people to enjoy life, to experience it fully. I want them to stick to their resolutions because it will help them feel a sense of accomplishment and well-being.
It is exciting to hear the news when a friend or family member accomplishes a goal.
Setting that goal means the individual held out hope and determination. They aspired to do something different in their life and endured whatever difficulties lay in the way of reaching the goal.
I think that is a significant part of being human. We hold on to hope. We hold on to our dreams. Without our hopes and dreams, I feel we would accomplish nothing in life.
It is my hope and my dream that you celebrate the New Year wisely, staying safe so that you might accomplish whatever goal you have set.