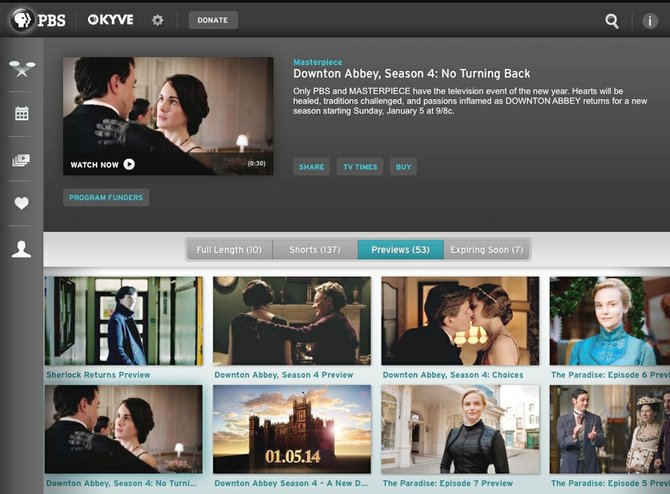 Apprageous
Daily Sun News App Review
In one episode of NBC's Friends sitcom, Phoebe famously proclaims that she hates PBS, only to later support Public Television.
To be sure, in real life PBS has its avid supporters and unhappy detractors. At various times I've found myself in both camps.
But there's pretty much universal acclaim for the British programming PBS provides us here in the states.
Whether it's Monty Python or Doctor Who or Keeping Up Appearances, we in the colonies over the past 40 years have benefited from Britwit that otherwise would be unavailable if not for PBS.
Sunday, Jan. 5, the fourth season of Downton Abbey debuts on Public Television.
Downton is the latest, and most popular, in a long line of British programming to air on PBS.
We set our DVR so we don't miss an episode…but occasionally we still do. In those instances, I've turned to the PBS app to catch up.
With Downton's success, though, it's now been picked up on pay outlets such as Hulu and Netflix, meaning if you don't catch that episode on the PBS app for free within a few days after it airs you'll likely have to fork over some dollars.
With the fourth season of Downton still a few days away, the app has plenty of preview episodes to whet fans' appetites for the new season.
PBS the network is much more than Downton, of course, and the same holds true with the PBS app.
You can catch past episodes of great TV journalism in the form of PBS' Frontline and historical perspective with its American Experience series.
You can also catch nature and kids and cooking programming and a host of other shows offered on PBS all from your phone or tablet.
Note, there is also a PBS Kids app that is all about children's TV. It's a great companion piece to have if you're into PBS programming for kids.
One of the features I like on the regular PBS app is that it lets you find the station closest to you so you can get a quick look at the schedule of future programming.
Another item on the free app I appreciate is the "Expiring Soon" tab, which alerts you to episodes that will be leaving the website soon. It's a courteous feature that comes in handy with must-see TV like Downton.
So, check out the PBS app. Download the app for Downton and to keep up with the Crawleys, if you'd like, but stay for all the other goodies it offers.
Like Phoebe, you'll find renewed appreciation for PBS.