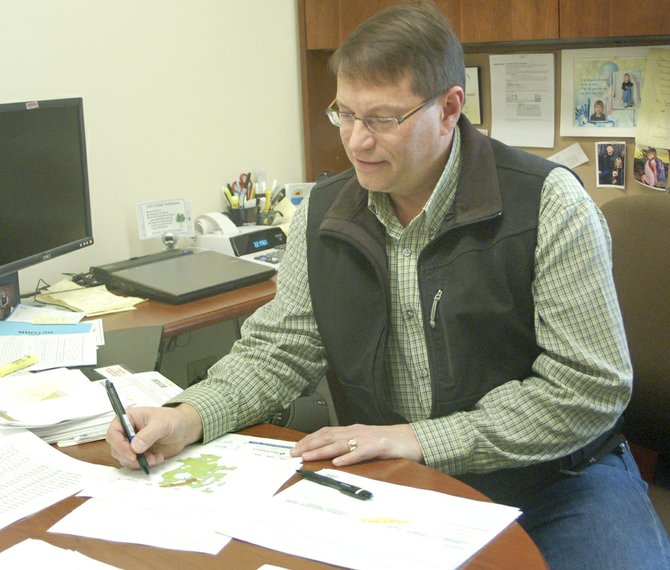 Selling crop insurance comes naturally to Gary Olson. His parents operated Olson Crop Insurance in Selah for many years.
"I grew up around the business," he said, who for a time even operated the family business. He began work in the family business in 1993, where he continued to sell crop insurance before going to work in 1999 with a Prosser-based agency.
His background in determining crop insurance coverage includes five years with Chapman-Lampson Crop Insurance in Prosser. When Northwest Farm Credit Services purchased the Prosser company, Olson went to work at its Sunnyside branch office.

Today, Olson is a crop insurance agent for Northwest Farm Credit Services.
"I've been with this company since 2003," Olson said.
This time of year Olson finds himself studying and analyzing crop yield and production history, working to determine if local clients need to adjust their crop coverage for the coming growing season.
"We base the insurance costs on the previous five years yield for such crops as apples and the past 10 years for other crops like grapes," he explained.

As a crop insurance agent, Olson is always looking at the yield base as it can vary widely from season to season. "We try to look at past history when determining rates," he explained.
Additionally, Olson said the insurance coverage can help protect farmers from the risks of drops in market price.
Based on the 10-year grape crop yield for example, Olson can offer insurance coverage up to 85 percent of the crop's future potential yield. The company also offers up to 75 percent coverage for crops like apples, cherries and pears, based on the historical yield patterns.
Olson said he really enjoys working with the Northwest Credit Services customers.
"I work with a variety of crop insurances to aid our customer with the best coverage, but we also offer risk management tools as well," he added.
Olson said one of the tools the farm credit services company offers is business classes for customers.

"I really enjoy this line of work," he admitted.
He and his wife Caroline continue to call Selah home where their 10-year-old daughter Rachel attends school. When not selling insurance, Olson can be found planning motorcycle trips or family vacations.
"We also volunteer for Second Harvest and are involved in our daughter's school and after school activities," he added.