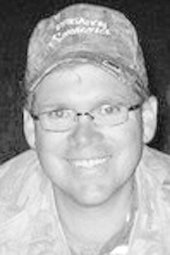 On Christmas Day, 2013, Jerry Haak received the best present of his life, a new heavenly body. He finally gets to "sleep in heavenly peace."
He was born July 28, 1962 in Delavan, Wis. to Henry and Karen Haak, and was raised in Outlook with brothers, Hank, Rick, Dan and sisters, Judi and Lisa.
He attended Sunnyside Christian School, Sunnyside High School and graduated in 1984 from Dordt College with a Bachelor's degree in agri/business.
On June 15, 1984 he married his sixth grade sweetheart, Rosie Bosma. They were blessed with three beautiful children, Matthew, Ashley and Alyssa, and three years ago added a wonderful daughter-in-law, Michelle.
His greatest joy was spending time with his family. Dinner conversations, sporting events, hunting/fishing expeditions, and family vacations were his favorite activities. He always said his other blessings paled in comparison.
Jerry loved his job as an orchardist. It was his passion. He devoured new information and techniques, mulled them over, but usually had a better idea of his own idea and figured out how to accomplish it. He valued his employees and always wanted to help them with whatever they needed.
Jerry loved his Lord and lived his life serving him. He filled his mind with ideas to keep it off his daily physical pain. With this came a heart for those less fortunate than him. Projects he was involved in included Farmer to Farmer Zambia, Partners Worldwide, Transformation Sunnyside, Sunnyside Christian School and Sunnyside Christian Reformed Church. He also had plenty of input for the former Washington State Apple Commission, WA Horticulture panels, the Barnabas Foundation and the Roza Irrigation Board.
Visitation will be held today, Dec. 30, 2013, from 4 to 7 p.m. at Valley Hills Funeral Home in Sunnyside. Family graveside services will be held followed by a celebration of life on Tuesday Dec. 31, 2013, at 11 a.m. at Sunnyside Christian Reformed Church, 700 N. 16th St.
Those wishing to honor Jerry's legacy can make contributions to Sunnyside Christian School or Transformation Sunnyside.
Share your memories with the family at www.valleyhillsfh.com.
Valley Hills Funeral Home in Sunnyside is in care of all arrangements.