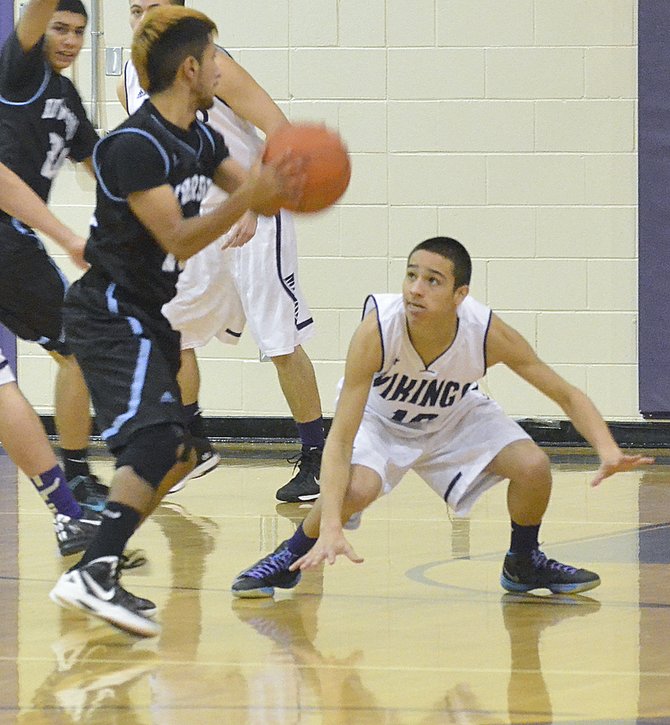 BOYS PREP BASKETBALL
MABTON – A 30-4 rally was plenty to pace the Mabton Viking boys hoop team to a 53-30 win over visiting Riverside, Ore. last Saturday night.
The non-league contest was very much in doubt through the first half. Mabton, in fact, had to score the last seven points of the second quarter just to gain a 20-19 advantage at the break.
"Although we still struggled to execute offensively in the first half, our defense and rebounding kept us in the game," said Mabton Coach Brock Ledgerwood.
The Vikes sustained the momentum of that 7-0 run at the end of the half, as in the third frame they went on a 23-4 surge to essentially put the game out of reach.
Sparking the pivotal rally in the third was a switch to full court pressure to start the quarter.
Luis Ruiz scored nine of his game-high 15 points in the third quarter and disrupted Riverside's offense with four steals in the quarter.
Ruiz, who had six steals for the game, also pulled down six rebounds. Isaiah Sanchez and Alex Reyna each tallied 9 points for Mabton, while Roy Zavala scored 8 for the Vikes while dishing out six assists.
Nico Pina was strong in the paint for Mabton with a team-high eight rebounds and Reyna collected six caroms.
Greg Shimer paced Riverside with 9 points and 10 rebounds.
"I was happy with our improved effort as a team and if we can continue to build our chemistry, we will be a tough team to beat," Ledgerwood said of the win. "We played together defensively and shared the ball offensively. This is how we have to play going forward to see continued success."
Mabton (2-5) plays another non-league game this coming Friday at Columbia-Burbank.