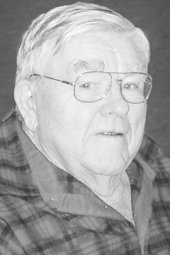 Sherman C. Jensen, 89, of Bickleton died on Monday, Dec. 23, 2013 at Prosser Memorial Hospital after a brief illness.
He was born Aug. 7, 1924 in The Dalles, Ore. to Christian A. and Emma (Larsen) Jensen of Bickleton. At the age of three, he moved with his parents and younger sister to the farm that would remain his home for much of his life.
Sherman attended school in Bickleton, graduating from high school there in 1942. He then enrolled at Washington State College in Pullman, where he was accepted into Acacia Fraternity. His studies were interrupted in 1943, when he was drafted into the U.S. Army. He served with the 10th Mountain Division in Italy, where he was wounded in action in May 1945. Upon his return home, he completed his studies at WSC, receiving a two year agriculture certificate in 1948.
On New Year's Eve of that year Sherman went on a blind date and met the love of his life, Marilynn Olson, who was a teacher at Denny Blaine Elementary in Sunnyside. They married Aug. 14, 1949 and moved to the family farm.
Sherman enjoyed being a farmer, and was adept at maintaining many of the traditions of the family farm while also utilizing cutting-edge conservation techniques and working with Washington State University scientists in testing new grain varieties. He was able to use these relationships as a basis for creating Jensen Seed Farm, realizing a lifelong dream. He received a Conservation Farmer award from then-governor Arthur Langlie in 1954.
He was active in the Washington State Crop Improvement Association, serving as president from 1968 to 1969.
A life-long Freemason, Sherman was past Master of Grandview Lodge 191. He served as a scoutmaster with the Boy Scouts of America for many years, was active in the Bickleton Presbyterian Church and served in various roles throughout the community, including some in community theater productions.
Sherman was a dedicated supporter of the public school system, both locally through the Bickleton School Benefit Association and in a wider capacity, serving on the board of Educational Service District #105 in Yakima for more than 30 years. He was always interested in the history of the area and remained an active member of the Alder Creek Pioneer Association and the Eastern Klickitat County Historical Society.
Sherman made friends wherever he went, and kept them throughout his long life.
He is survived by his sister, Marian (Don) Toste of Livermore, Calif.; his children, Pete (Jacqui) Jensen and Jeanna Jensen, both of Bickleton, Kristi (Brian) Tuor of Mabton and Lise (Norman) Ott of Odessa; and as well as by several grandchildren, and great-grandchildren.
He was preceded in death by his parents; twin brothers, Richard and Ronald Jensen; and his wife of more than 60 years, Marilynn (Olson) Jensen.
Memorial services will be held Saturday, Jan. 4, 2014, at 10:30 a.m. at Bickelton Presbyterian Church.
Those wishing to honor Sherman's memory may contribute to the Bickleton Presbyterian Church, Alder Creek Pioneer Association or to the charity of your choice.
If you would like to sign Sherman's on-line memorial book you may do so at www.funeralhomesmith.com.
Smith Funeral Homes Ltd. and Crematory in Sunnyside is in charge of arrangements.
More like this story