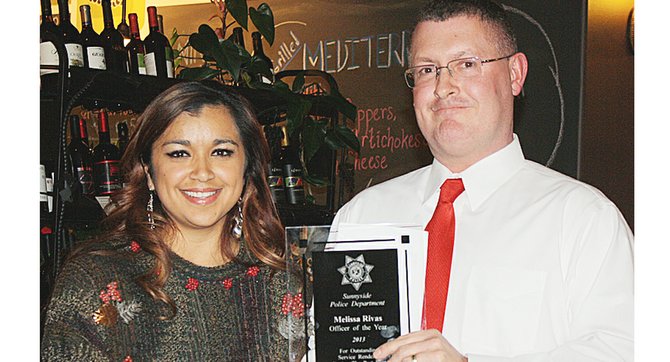 The Sunnyside Police Association held its annual awards dinner recently, recognizing several officers and employees for their service to the community.
The awards were presented by Sunnyside Deputy Police Chief Phil Schenck.
Recognized as Supervisor of the Year was Sgt. Jeff Cunningham.
Officers Melissa Rivas and Matthew Kramer were named Officers of the Year.
Rivas was also presented the Eli O'Brien Award. The reserve officers make that selection from among the paid staff members who mentor and support the reserve officers working for the Sunnyside Police Department.
Presented the plaque for Reserve Officer of the Year was Ryan Bruso.
The Correction Officer of the Year is Jerry Johnston.
Elva Chumley was named Dispatcher of the Year and Receptionist Angie Candido was named the Support Services Employee of the Year.
Reserve Officer Robert Free was presented the Steve Evans Extra Mile Award, presented to an active reserve officer in honor of former Sgt. Steve Evans, who was supportive of the reserve officer program.
Each year the Washington State Traffic Safety Commission selects an officer for its Top DUI Performance Award. This year's award recipient from Sunnyside was Justin Paganelli.