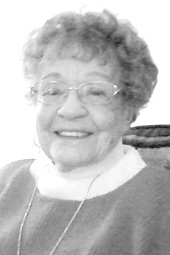 Church bells were ringing, car horns were honking and factory whistles were blowing on Nov. 11, 1918 as Lillian LeBloch Fencil and her twin sister, Anne, were being born in Chicago, Ill. Mom was very proud of being born on the "original Armistice Day."
She grew up in Chicago, the child of Czech immigrants, not learning to speak English until she went to school. And then after school she and her brothers and sisters attended Czech school and learned to read, write and speak Czech fluently and correctly. Her Czech heritage was very important to her and the love of Czech cooking was passed to her three children, Karen (Hitchcock Hoffmeister), Toni (Smith) and Frank Fencil.

Lillian married Frank Joseph Fencil in April of 1937 in Chicago. They continued to live in Illinois until 1959, when Frank went to work for Thiokol Chemical in Utah, where he was a quality control engineer. They moved to Logan, Utah with their family and lived there until Frank passed in l983. Lillian was a realtor and enjoyed finding just the right house for just the right family.

Yakima became Lillian's home in 1986 and she had a great retirement. She traveled much of the world, made many friends and lived each day to the fullest!
She volunteered at the Discovery Shop, the Plaid Door, the Larson Gallery and Red Cross Blood Services.
She collected beautiful things and painted wonderful landscapes. Her family treasures her paintings - we remember how much pleasure they gave to her! What a "fun" mom, grandma and great-grandma!
When it became too difficult to live alone in July of 2012, Lillian moved to Sun Terrace Assisted Living in Sunnyside. There she endeared herself to staff and made many friends. She was her usual sociable, friendly, witty and cheerful self. Lillian had an insatiable appetite for life, tried to keep busy and always put her make-up on in the morning. She said she did it for her own amusement!
On Dec. 17, 2013 Lillian spent a quiet day visiting with family and special friends at Sun Terrace. She even had a surprise visit from Santa Claus at dinner time. While napping that evening, her Lord and Savior Jesus Christ sent an angel and called her home. We know she went with a sense of adventure and anticipation to see friends and family who preceded her. And while we all miss her terribly, we, too, will see her again in heaven. Nazdar, Maminku. Tri krat!!
She is survived by her older brother, James LeBloch of Chicago, who was 100 years old on Christmas Eve of this year; her daughters, Karen (Dr. Rex T.) Hitchcock Hoffmeister of Zillah and Toni (Arthur D.) Smith of Moscow and Deary, Idaho; her son, Frank (Tawna) J. Fencil of Smithfield, Utah; eight grandchildren, Kathleen Hitchcock, Sam (Shannon) Hitchcock II, Tiffany (Jeff) Hitchcock Beck and Ryan (Teresa) Hitchcock, all of the Yakima area, and Emily Smith of Seattle, Andrew Smith of Boise, Jason McDonald of Logan and Athena (Shawn) Holmes of Boise, Idaho; 11 great-grandchildren, Benjamin Minick, Sammy Hitchcock III, Raelynn Hitchcock, Olivia Hitchcock, Taylor Hitchcock, Caitlin Hitchcock, Paisley Holmes, Kara Holmes, Zena McDonald, Alexis Soroka and Joshua McDonald; and two great-great-grandchildren, Ethan and Jazmyn McDonald.
Lillian was preceded in death by her parents, James and Regina LeBloch; sisters, Elsie and Anne; and brother, John.

We thank the wonderful Sun Terrace staff and Lower Valley Hospice for the love and care generously given to our mother.
In lieu of flowers, please donate to Yakima Memorial Foundation or North Star Lodge in Lillian's name.

Services and celebration of this life well lived will be held Saturday, Jan. 4, 2013, at 1 p.m. at Smith Funeral Home Chapel in Sunnyside, with Chaplain Eric Anderson officiating.
Those wishing to sign Lillian's on-line memorial book may do so at www.funeralhomesmith.com.
Smith Funeral Homes and Crematory in charge of all arrangements.