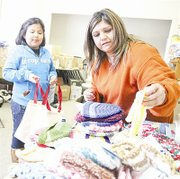 The issue of homelessness can sometimes hit closer to home than some may think.
Lower Valley Crisis & Support Services Executive Director Leticia Garcia says though some may not think homelessness is an issue in Sunnyside, they should think again.
"Sometimes (homelessness) doesn't look like it would in a bigger city," she said. "Sometimes it's a couch surfer in need of a stable home."
But for April Clinkenbeard, the issue of homelessness was very real. This Lower Valley native was homeless for more than two years and she says she recently found a safe haven at a shelter in Sunnyside. After just a month of visiting the shelter at Oasis Community Church, Clinkenbeard was connected with the essential resources to help find herself a home of her very own.
"This place is just a miracle," Clinkenbeard said of the Lower Valley Project Homeless Connect event held at Oasis Community Church yesterday.
The annual event was housed at the Sunnyside church with more than 20 agencies on hand to help clients and attendees with various needs. Agencies represented those who provide a variety of services for such things as as housing, domestic violence victim support, health concerns and social problems.
The group of agencies and volunteers also helped provide area folks with a hot meal, hygiene kits, warm clothes, blankets and, most of all, resources to help them sustain their independence and freedom, says Garcia.
Before entering the church-turned-arena yesterday, clients of the event were asked to fill out a survey so organizers of the event could help pair them with agencies that they could most benefit from.
"The surveys help us track how many people come through the doors and help us determine what kind of needs they have coming in here," Garcia added.
Representatives from agencies at the event had plenty of freebies and information for attendees.
Maria Ayala of Catholic Charities Housing Services said her organization works to help people find a home and also works to help those facing the threat of foreclosure to keep their homes.
"It's a frightening time for (the homeowners) when they get notice of a foreclosure," Ayala said. "But we can often help. They just need to contact us."
Annette Rodriguez of Yakima Neighborhood Health Services said the makeshift downstairs clinic was a bit swamped yesterday with people looking for aid.
"We help people to navigate into the health system and achieve continuity of care," she said.
Other organizations provided help finding work, with substance abuse problems and with dealing with government programs.
Pastor Cameron Garcia said that every inch of the church building was in use to help the homeless.
"It's a very busy event for us," he said.