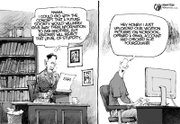 After working in Sunnyside for the past year and half, I've come to expect certain things out of the locals here. So, if you're thinking of making the Lower Valley your home, here's a few things you can expect to encounter.
-When phoning or visiting Sunnyside Christian High School, you can always expect a friendly and welcoming greeting, and a helpful attitude.
-When being served a cup of Joe at an unnamed South First Street coffee shop, you can always expect the product to be as warm and inviting as the service you are provided. A free, fluffy and delicious mini donut doesn't hurt, either.
-When attending a Sunnyside High School drama production, you can expect to be impressed, to say the least.
-You can also expect a Mabton City Council meeting to rarely have a heated debate and the meetings rarely last longer than an hour.
-When driving through town you can expect to get stuck behind someone who is traveling at the lightning speed of 10 mph. Begging the question, what or who are they looking for?
-A crime-free week is something you can rarely expect in these Lower Valley communities, but an attentive and proactive police force is oft the case no matter which city you are in.
-After living in the community for just a few short months, you won't have to travel far before running into someone you know. On that note: expect to keep your personal matters out in the open, they'll get out one way or another anyhow.
-A devastating tragedy is bound to strike, but when it does, you can expect the community to rally together and support each other.
All in all, the Lower Valley is a great place to be.
It does have its quirks...and I really wish some people would commit to driving just a little faster, maybe even the speed limit.
But on a serious note, living here has taught me to trust in people again. I offer thanks to my neighbors, who always commit to supporting each other.