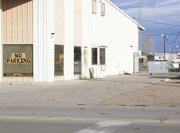 The Washington Department of Ecology is looking for public comments on a plan to clean up and contain toxins at the Bee Jay Scales site near the corner of First Street and Warehouse Avenue in Sunnyside.
The site and adjacent properties have been used for agricultural warehouses, lumber yards, coal storage and railroad activities since 1906. Investigations at the site over the last decade have determined that the soil and groundwater in the area are contaminated with nitrates and ammonia.
Chevron Chemical Company and American Oil Company have entered into an agreement with Ecology officials to clean up the site. The proposed methods would include soil excavation and replacement, bioremediation, institutional controls, monitored natural breakdown of toxins and a vertical barrier to treat off-property groundwater.
The clean-up will take a minimum of three years, but groundwater from the site and nearby areas will not be declared safe for human consumption until after the reasonable restoration timeframe, which has been defined as 30 to 40 years.
Comments and technical questions from the public can be submitted to Norm Hepner - Site Manager, WA Department of Ecology, Toxics Cleanup Program, 15 W. Yakima Ave., Ste 200, Yakima, WA, 98902-3452, by calling 509-457-7127 or through e-mail at Norm.Hepner@ecy.wa.gov.