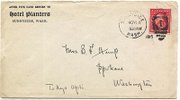 Sunnyside's Steve Hagensicker likes to collect unique items. As a result, he said, he searches the Ebay online marketplace for items that catch his fancy.
He said a recent search turned up a piece of Sunnyside's history. It was an envelope mailed from Hotel Planters on Nov. 14, 1919.
"It's nearly 100 years old," Hagensicker noted, stating the envelope was mailed to an individual living at the Tokyo Apartments in Spokane.
It is unknown who the sender of the envelope was, but Hagensicker was intrigued by the historical piece of paper anyhow.
"Sometimes when you come across something so unique you just have to take advantage of the opportunity," he said of his purchase.
Hagensicker said the envelope is in nearly perfect condition and he felt the purchase was worthwhile.
"I'm guessing there may be others (items of Sunnyside's history) out there, but this was so close to Sunnyside's beginning," he said, stating he likes having in his possession a historical document.
Hagensicker said the seller lives in Tacoma and he is uncertain how that individual came into possession of the envelope.
The Hotel Planters in Sunnyside no longer sits at the corner of East Decatur Avenue and South Sixth Street.
The Spokane Register of Historic Places does not have a listing for the Tokyo Apartments, but it is known that Architect Alfred Jones is credited for its architecture, as well as the architecture of similar downtown Spokane buildings like the Kempis Apartments. That apartment building still stands and is listed as a historic Spokane landmark.
Hagensicker said he has not looked into any other history related to the envelope, which was mailed to Mrs. B.F. Hemp.
He said it fascinated him due to its ties to Sunnyside's history.