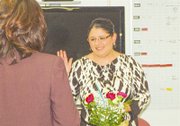 MABTON - After months of being shorthanded, the Mabton School Board is back at full strength with the appointment last week of Elizabeth Cerrillo.
The volunteer coordinator for Sunnyside Community Hospital, Cerrillo said she was encouraged to seek the post by co-worker Sandra Linde, a Sunnyside School Board member.
Serving on the board is also attractive, Cerrillo says, because she has children enrolled in Mabton's elementary and high schools.
"I wanted to get to know the school system a little bit better," the Grandview native says.
Her husband, Jesus (Jesse) Cerrillo III is originally from Mabton and the family recently moved there.
Outside of her new role as a school board member, Cerrillo also works with students through her job at Sunnyside Community Hospital. Cerrillo said she assists high school students interested in pursuing a senior project in a medical field. "If they need a mentor I help them find one," she says.
Last week was her first board meeting as a school board director, which included taking the oath of office.
"I'm very excited to work with the board. It seems like a well rounded group," Cerrillo says. "I'm really eager to learn and help in any way I can."
Not only does she like what she sees on the board, but Cerrillo gives Mabton's schools high marks.
"I enjoy talking with my kids' teachers...it seems like a nice, homey environment," she says. "It's easy to talk to everybody and everybody is willing to help you out."