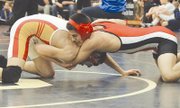 SPOKANE - The Grizzly wrestling team claimed two individual championships and advanced 12 athletes to Regionals on the way to a second-place finish during the Sub-Regional wrestling tourney last Saturday at University High School in Spokane.
Sunnyside, champions at last year's Sub-Regional and Regional tourneys, couldn't defend its crown as University High School claimed top honors with 360.5 points in the 10-team tourney. The Grizzlies were second at 258 and Mt. Spokane third at 210.5. North Central was next at 155.5 and Southridge finished in fifth at 148.
The Grizzlies took 26 wrestlers to Sub-Regionals and advanced 12, which Coach George Paulus says is probably the most Grizzly wrestlers to Regionals in about 20 years.
The top six placers in each weight class move on to the Regional round, which will be this coming Saturday in Sunnyside.
Bright spots for the Grizzlies were Jesse Barajas (113 lbs.) and Noe Palomino (145 lbs.). Both lived up to their No. 1 seedings at Sub-Regionals by claiming championship honors in their respective weight classes.
Barajas, a junior, earned his title with a 6-0 whitewash of Kamiakin's Cesar Castillo in the championship match. Palomino cruised to his title match, pinning two of three opponents. In the finale, the junior overwhelmed Mt. Spokane's John Hoover with a pin in just 22 seconds.
Sunnyside came within a few points of having two more grapplers earning championships.
Homer Romero (106 lbs.) earned runner-up honors for Sunnyside when he was edged in his title match 8-6 by University's Kwest Osborn. Paulus noted Romero, ranked second in the state at 106, jumped out to a 2-0 lead only to surrender six unanswered points and trail 6-2 after the first period. Romero battled back, but fell just short in settling for second behind the top-ranked Osborn.
Sunnyside's Daniel Avalos (182 lbs.) fell 4-2 in his title match to also claim second-place honors. He was nipped by Bryce Overholt of Southridge after giving up two penalty points during the match. "He never figured out how to take him down," Paulus said of Avalos' attempts to rally.
A third runner-up for the Grizzlies was Sam Romero. In the 152-lb. championship, Romero lost 15-0 to North Central's Izaec Quintanilla.
Sunnyside JV qualifier, Jesse Torres (106 lbs.), continued his momentum at Sub-Regionals. The sophomore arrived at Sub-Regionals with a third seed a week after dominating the field at the JV tourney. He lived up to that billing and more with third-place honors at Sub-Regionals, winning the consolation finale in convincing fashion by a 15-2 major decision over Pete Wilkes of Mt. Spokane.
Grizzly Santos Guerrero (120 lbs.) also brought home a third-place medal when he oupointed Southridge's Trenton Nett 7-1. Guerrero nearly advanced to the championship match, leading at one time by four points in his semifinal bout before losing in the final seconds.
Three more Sunnyside grapplers garnered third-place honors at Sub-Regionals; Max Ramos (170 lbs.) with a 3-2 nail-biter over Southridge's Andrew Collins, Austin Carman (220 lbs.) in an 11-4 win over Hanford's Dallon Grinder, and Anthony Chavez (126 lbs.) with a solid 8-3 decision against Shadle Park's Grover Escobar.
Carman was yet another Grizzly with a good shot at the championship finale, but in his semifinal match he lost in the final seconds after leading 7-6.
Sunnyside's final two placers and Regional qualifiers are Jacob Mendoza (113 lbs.) and Christian Ruiz (138 lbs.). Ruiz ended up with fourth-place honors when he fell in the consolation finale 10-0 to Mt. Spokane's Christian Nibarger. Mendoza ended the day in fifth place when he upended Hanford's Blake Llarenas 4-0 in the fifth/sixth place match.
Mendoza, a freshman, was Sunnyside's most pleasant surprise of the Sub-Regional tourney. After surviving the JV qualifier tourney a week ago, Mendoza prevailed in two loser-out matches last Saturday to advance to Regionals.
"He came from behind in two matches and won, which is really cool," says Paulus. "He has an opportunity to go to Regionals, which is a pretty neat thing for a freshman."
Sunnyside's 12 Regional qualifiers get to stay close to home for the to wrestle on their home mat at the Regional tourney this coming Saturday.
The top four in each weight class advance to the big dance - the Mat Classic state wrestling tourney in the Tacoma Dome.
"Our goal is to get all 12 guys to advance, that's what we're looking for," Paulus said.