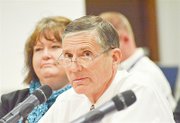 Community Dental of Sunnyside was contracted to provide sealants and dental screenings at each of the elementary schools in the Sunnyside School District.
Dr. Gary Martin and the staff responsible for providing the services said the effort to provide dental services went well and involved a great deal of coordination.
The dentists are reimbursed by insurance carriers and health insurance plans funded by Washington state.
However, not as many students participated in the program as officials would have liked.
Martin, at last Thursday's Sunnyside School Board meeting, said it is important for children to receive proper dental care because tooth decay is the most common dental illness among youngsters. That illness can lead to learning problems.
He said data has shown poor performance in school is more often attributed to pain related to dental problems.
"It's all preventable," said Martin.
He said Community Dental seeks to help students in the schools so they might be more successful.
Laura Reid was responsible for coordinating dental visits with the schools.
She said two-thirds of the students in the schools turned in the dental screening forms, but her goal is to get more students participating in the program.
Coordination with staff at the schools, said Reid, went well and everyone made sure there were no conflicts, in terms of youngsters spending time with the dental staff and missing out on core learning programs.
"We were able to get each school taken care of in one day and contacted students who were absent," said Reid.
Members of the local dental association, however, told the Sunnyside School Board they believed the process of selecting one provider, in this case the Community Dental clinic, rather than allowing several providers to provide dental services was not fair and equitable.
Dr. James Stevens said he appreciates what Dr. Martin has done for the community, providing services to children.
He said there was a lack of dental providers in Sunnyside for a number of years, but that has changed. As a result, he said he believes it is important that members of the dental community come together to meet the dental needs of Sunnyside's youth.
"There's a lot of talk about young students, but not high school students," said Stevens, telling the school board members that collaboration between the school district and the dental community could result in providing dental care to all students in the district.
"There's a need for students to access dental care," said Stevens.
He said there is no longer a need to have an outside entity like Grinnovations to provide services to Sunnyside because members of the local dental community, including Apple Valley Dental, have a desire to provide those services.
"Our dental community is very caring," said Stevens.
Apple Valley Dental's David Angotti also addressed the matter, stating "Everyone has the best interests of the students at heart.
"We don't feel one practice should be promoted over another."
The Sunnyside School District contracted for services with Community Dental for the 2012-13 academic year, and the school board will in the coming months need to consider how it will contract for services for next year.
It was suggested that a request for proposal be drafted to include language that would allow a group of dental providers to submit bids during the bidding process.
Sunnyside Superintendent of Schools Dr. Rick Cole said, "We're trying to be inclusive."