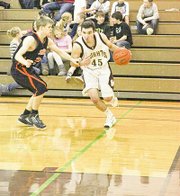 Three Sunnyside Christian seniors combined to nearly outscore the opposition last night in a 67-42 win for the Knights over visiting Sherman County, Ore.
Monday night's win was the regular season and home finale for Sunnyside Christian. It was also the last game on the Knight hardwood for seniors Alex Brouwer, Brandon Broersma and Drew Puterbaugh, who scored 12, 14 and 11 points, respectively.
"Our three seniors had close to double figures by the end of the first quarter," Sunnyside Christian Coach Brian Bosma said of his team's 27-5 first quarter lead. "They were on fire."
Bosma said the key was taking what the defense offered and taking high percentage shots.
In the second quarter the Knights substituted liberally against Sherman County, a junior/senior high school located in Moro, Ore. With an enrollment of 75 high school students - just a bit smaller than Sunnyside Christian - Sherman County is the equivalent of a 1B team in Washington state.
On defense, Sunnyside Christian focused its efforts on the Huskies' top threat, Jailin Conboy.
The Knights opened the game in a diamond-and-one defense, with Brant Bosma shadowing Conboy's every move.
"We wanted to get ready to play diamond-and-one for the postseason, so we stuck Brant on him and that stifled him," Coach Bosma said of the strategy, which essentially has four defenders playing a zone and a fifth playing man-to-man against the opponent's biggest threat.
With the outcome well inhand by the second quarter, Sunnyside Christian switched to a zone defense and Conboy took advantage to the tune of 24 points for the game. Teammate Riley Brown tallied 14 points for the Huskies.
Sunnyside Christian (20-2) now turns its attention fully to the playoffs and the District title game later this week against Bickleton or Lyle.
"I think we're ready for the postseason," Bosma says. "Our offensive execution has really picked up lately."