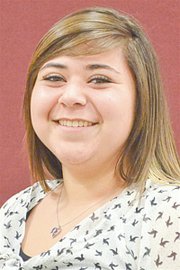 TACOMA - Sunnyside High School junior Johanna Chumley, making her first-ever appearance at the WIAA 1A/2A/3A Girls State Bowling Tournament, now has something to build on if she can secure a return trip to the big party next season.
Chumley, from a field of 59 bowlers last Friday and Saturday at Narrows Plaza Bowl in Tacoma, garnered a 44th place finish in the individual standings at State.
The SHS junior carries an average in the low 150's in the weekly junior bowling league at Sunnyside's Valley Lanes. Chumley was a bit off target at State, however, finishing the six-game block in Tacoma averaging 142.
Still, as a relative newcomer to bowling, Chumley finished ahead of 15 of the prep keglers who earned berths to State.
Chumley, who led the Lady Grizzlies in scoring this past season, turned in her strongest performance at State in game two. She rolled a 189. Her weakest effort in Tacoma came in the sixth and final game, when she mustered just a 108.
In the first three-game block last Friday, Chumley recorded a 469 series on scores of 124-189-156. She closed out State action with a three-game series of 383 on efforts of 137-138-108.
Chumley's final pin fall totaled 852.
Winning top individual honors at State was Janaye Kilgore of Mark Morris High School. She averaged 216 for the six-game block on performances of 248-208-202-237-210-190 for a total pin fall of 1295. Finishing a distant second, 84 pins back of Kilgore with a 1211 six-game series, was North Thurston's Cortnie Brathovd, who averaged 202.
The top Central Washington bowler in the individual placings at State proved to be West Valley's Blaire Crutchley. She finished 12th by averaging 182 in the six games.
Team-wise at the 1A/2A/3A State tourney, Mark Morris High School captured first-place honors with a total pin fall of 7694. Timberline was second with a total pin fall of 7574.