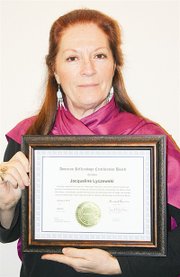 Sunnyside reflexologist Jacqueline Lyczewski recently achieved a long sought-after goal when she achieved national certification in her profession.
"From the beginning, I knew I wouldn't be satisfied with less than the highest certification available, not only for myself but also for my clients," says Lyczewski, who owns and operates Healing Soles Reflexology in Sunnyside.
The national certification standards are not only respected within the reflexology profession, but also by other professions within the medical community, says Lyczewski.
She passed all three portions of her board testing in Seattle last November and received her national certification last month.
Besides her reflexology studio in Sunnyside at 508 Yakima Valley Highway, Lyczewski says she'll also be providing a presentation at PMH Medical Center in Prosser later this month for students of occupational therapy.
She is available for reflexology appointments by calling 840-2599.