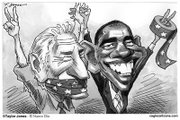 CONNELL - It was a battle of East and West last night in Connell.
The Mabton girls basketball team, representing the Western SCAC teams, lost the District tourney opener to Connell, which represented the eastern conference.
"This was a really, really great game," said Lady Viking Coach Chris McCallum of the 56-54 loss his team sustained.
He said Mabton played with a lot of effort and heart.
"We just came up one shot short," said McCallum.
Mabton and the Eagles ended the opening half tied, 28-28.
Mabton took a three-point lead in the third quarter, outscoring Connell 10-7. However, it was the final stanza that sealed the game for the Eagles, who outscored the Lady Vikings 21-16.
McCallum said Mabton got into foul trouble in the second quarter, which placed some key players on the bench. That provided the Eagles the opportunity to close the 17-11 gap created by his club in the first quarter.
The second half, he said, was a back-and-forth affair between the two teams.
"Late in the fourth, Connell jumped out to a six-point lead, but Cassidy McCallum (of the Lady Vikes) hit a 3-point shot and cut it to three," McCallum said.
With just 36 seconds on the clock, Connell led the game 54-51, and Mabton "...chose to foul if we didn't get a quick steal."
That foul cost Mabton two points.
On the next possession, it was Mabton's Alyssa Nash attacking the basket and drawing a foul.
She dropped in one of two shots from the charity stripe with 14 seconds left in the game.
"We were forced to foul again," said McCallum.
He said the Connell player missed her free throw shots and Mabton's Desanay Guerrero raced toward the basket for a lay-in, thanks to an assist provided by Soila Zaragoza. The bucket cut Connell's lead to just two points.
Nine seconds remained and Mabton called a time-out to set up a play, according to McCallum. He said the Lady Vikings set up the press and stole the ball. Watching the clock, Mabton had just seven seconds to tie or take the lead.
"I wasn't even thinking about trying to tie," McCallum admitted.
He said the Lady Vikings set up a three-point shot on the left wing for Zaragoza. "She got a good look and from where I was standing it looked dead (on), but it hit the back rim and that was the game."
Zaragoza tallied 20 points and recorded seven boards.
Guerrero collected seven loose balls from the glass and scored 14 points, and Nash recorded seven boards and tallied seven points.
For Connell, Michelle Schultz led the Eagles with 16 points. She recorded 19 rebounds, as well.
Mabton was forced into the District consolation bracket with the loss and will this coming Saturday play Kiona-Benton in a loser-out affair at Columbia or Riverview High School.