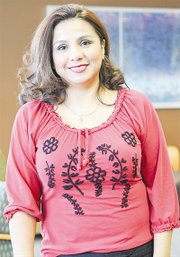 Sunnyside resident Selene Zapata never expected to earn a college degree, but thanks to YVCC's Grandview campus she's close to completing her Associate degree and hopes to transfer to a four-year university.
The State Board for Community and Technical Colleges Trustees Association has presented Zapata with one of five Transforming Lives Awards for her accomplishments in enhancing her life through education.
But the 1992 SHS grad said her efforts have paid off for more than just herself.
"I'm a single mom raising two kids," she said. "My older son has already completed his Associate degree and is now attending San Diego State. My younger son is already taking courses and will be able to go to a university as well."
Zapata would like to pursue a Bachelor's degree in education with a math endorsement and become a high school math teacher. It is a goal that she never would have thought possible for herself in the past.
"I didn't have support when I was younger," she said. "It wasn't even a dream. Having access to the college here in the Lower Valley has made this possible."
Zapata isn't just succeeding at YVCC, she's excelling. She has made both the president's and the dean's lists, despite needing to work full-time.
"I've talked to parents and my friends who tell me it's too hard, it's impossible," she said. "But you can do it as long as you're committed to it. You are not alone. There are lots of people there to help."
Considering her future, Zapata said she might go to San Diego State like her son, but may possibly stay in the area and attend Heritage University until her younger son graduates.
"I'm ready for new challenges," she said.