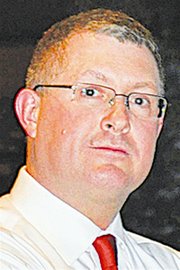 Less than 24 hours after the news broke locally that Sunnyside Deputy Police Chief Phil Schenck had applied for the vacant police chief's position, he was served with a letter of intent to terminate.
The letter of intent, stating Schenck's last day would be Feb. 28, came from Interim City Manager Frank Sweet's office yesterday morning (Tuesday), Schenck said.
The news came as a shock to many in the community.
Even more shocking, perhaps, is that Sweet's job may now be on the line, too. Mayor Mike Farmer has called for an executive session to be held at next Monday's city council meeting. Farmer said the executive session will be to "review personnel."
There are rumblings that Sweet will be given an ultimatum by council members to change his mind about terminating Schenck, or lose his position as interim city manager.
The rumblings appear to have merit, based on comments by Councilman Jim Restucci.
"The deputy mayor (Don Vlieger) told the city manager that he believes he has the votes to terminate the city manager if he doesn't withdraw his decision to terminate Phil (Schenck)," Restucci said in relaying what he's been told.
Councilman Nick Paulakis said he, too, heard that some council members may want to terminate Sweet, in disapproval of his decision.
Restucci says if the rumors are true, his only concern is that by declaring there are enough council votes to terminate Sweet, Vlieger may have violated the open public meetings act by perhaps meeting with council members outside of an open, public meeting.
Restucci also stressed he believes personnel matters should be left to the discretion of the city manager.
"The council are legislators, it's our job to build the machine and let the city manager run it," he added.
Restucci also says by obstructing Sweet's decisions in personnel matters, the council may run the risk of violating state law (RCW 35A.13.120), "interference by council members."
Paulakis says he's against Sweet's decision to terminate Schenck.
"Crime is down, (Phil Schenck) has worked hard and done the regular chief's job," he said. "This is very disappointing."
Paulakis too, says something needs to happen.
"It's not that I want to tell Frank (Sweet) what to do, but I want to know the reasons for letting the deputy chief go," he added.
"We don't have much say in personnel matters, but we do have a say in who the city manager is."
Schenck, too, hopes he can keep his job.
"I have no desire to leave the police department, the city of Sunnyside has been good to me," he said.
Schenk also stated Sunnyside has been a great community to work with and believes he works in the "best police department in the world."
News also broke yesterday that Sunnyside City Finance Director Teresa Hanford tendered her resignation this week. Hanford confirmed that she submitted her notice to the city this past Monday with her last day being Friday, Feb. 15.
Hanford, who was a member of the state auditor's team investigating Sunnyside last year, was hired by the city last November. She declined to give a reason for her resignation.
Councilman Jason Raines stated he is awaiting Monday's executive session. He says the two top positions that hold the most responsibility in the city are the chief of police and the city manager.
"No matter what happens, council will make sure these positions are filled," he said. "We are going to make sure the needs of the public are being met."
Council's next regularly scheduled meeting is Monday, Feb. 11, at 6:30 p.m. in the Law and Justice Center in Sunnyside, where the top order of business is expected to be discussing the matter at hand.
According to Sunnyside's municipal code (chapter 2.20.060), all members of the police department, except the police chief, are employed under the rules for civil service employees.
According to state law (RCW 41.12.090) no civil service employee shall be removed without showing cause. A written accusation also must be given to the terminated employee and a duplicate filed with the civil service commission. According to law, Schenck is allotted 10 days from the day he received the letter to file a request for an investigation with the commission. In Sunnyside, the commission is made up of three members appointed by the city manager and approved by the city council, each of whom serve six-year terms.