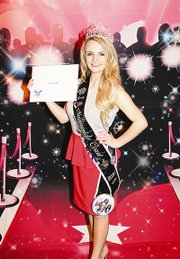 Jenny Hall performed 273 hours of community service through a wide variety of activities during the past year. A member of the Miss Sunnyside court, she was recently awarded the Gold Level Presidential Volunteer Service Award.
The award was started by President George W. Bush to promote volunteerism in the community and has three levels. The gold level is the highest award, and young adults must complete at least 250 hours of volunteer work in a calendar year to qualify.
Hall said she's participated in church fundraisers, blood drives, special causes, school programs, holiday events, food drives and other events related to her position as First Princess on the Miss Sunnyside court.
"Every time I would see something posted around town that needed volunteers, I'd call and offer help," she said. "And sometimes I would just show up and volunteer."
Hall said volunteering is worth the effort.
"I like to give back to the community," she said. "And when I finish a project I find I appreciate what I have so much more. It keeps me humble."
In the next year Hall plans to put together a project to promote volunteering in the community. She said the project isn't her senior project, just something she wants to do.
Hall received the national honor from Sen. Steve Hobbs at an event in the Seattle area on Jan. 18. Laura Hunter, current Mrs. Washington Globe, hosted the event.
Hall's mother, Karen Hall, praised her daughter's efforts.
"Her father, myself and family members are so very proud of the person she is, and all her accomplishments she is achieving!"