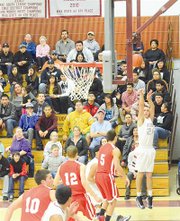 GRANDVIEW - Prosser attempted to upend Grandview last night, but failed to avenge an earlier season 48-47 loss.
The Greyhounds were struggling through the first half of last night's rivalry match-up, but won 70-67 when the final whistle was blown.
The shots weren't falling for Grandview and the Mustangs were outrebounding the host team.
Prosser had a 39-26 lead at halftime.
"We had to overcome some adversity," said Grandview Coach Roy Garcia, noting his team was in the hole and knew they would have to pull it together to win the game.
"We kept our poise and composure," he said, stating his team knows how to find ways to win.
The Greyhounds entered the second half fighting for points. The team outscored Prosser 20-15, narrowing the 13-point margin to eight.
Grandview, with one quarter left, dug in deep and held the Mustangs to 13 points in the final stanza. The Greyhounds began hitting the basket more frequently and scored 24 points to pull out the 70-67 victory.
"Prosser is a well-coached team and always gives us problems with their physical play and athleticism," said Garcia, noting he is proud of the 'Hounds for pulling together in a team effort to secure the win.
Leading Grandview were the two Isaiahs, Gonzalez and Ruiz with 22 points each.
Mason Schutt led the Mustangs with a team-high 19 points, and Danny Raap and Jeff Hamilton combined for 22 points.
This coming Friday Grandview (12-5, 13-6) has one more regular season game, a match-up with the Red Devils in East Valley.