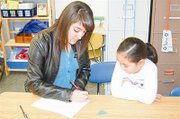 When it came time for Judith Simerl's class at Sunnyside High School to do a writing project, the teacher decided to have her students consult with kindergarteners at Sun Valley Elementary School to write children's stories.
Those tales now appear in a book prepared by Simerl's first trimester class using ideas from the students in Kelly Zakahi's class at Sun Valley.
The book is impressive enough that another class of aspiring writers at SHS visited Sun Valley this week to consult with Susan Downing's class for a new set of stories. On the same visit, several high school students from the first class returned to read stories from the book to Zakahi's kinder students.
"We first came out in October," said Simerl. "The kindergarteners were very reserved. It was difficult to get some of them to talk."
In contrast, with several months of school under their belts, the students in Downing's class enthusiastically greeted the high school students and jumped right into planning for the stories.
Next door, five high school students from the first trimester class read stories to Zakahi's class, displaying the accompanying artwork as they read. During the reading, sometimes a child could not resist saying, "that was me! I drew that!"
The collaboration between the two groups of students has several benefits, according to Simerl. The high school students learn how to listen to ideas from others and use them to create stories, while the younger students are able to see their own efforts turned into a finished product.
"We have to pay attention," said SHS student Erica Valencia as she worked with kindergartener Alondra Trujillo on a story involving several animal friends on a playground. "This is a good experience."