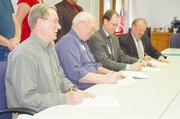 Four parties signed on the dotted line yesterday, Wednesday, to form a cooperative in Sunnyside against drugs and gangs.
Officials from Sunnyside Community Hospital, the city of Sunnyside, the Port of Sunnyside and the Sunnyside School District were on hand for the signing to launch what is being called the Sunnyside Community Development Cooperative.
The cooperative's three tenets are the city of Sunnyside's Gang Free Initiative, a program to reduce substance abuse among students and the school district's student health center initiative.
Cathy Kelley is the community coordinator working with the cooperative, and she says the four parties working together helped secure grant funding.
For example, a state grant of $65,816 per year for three years has been received to aid prevention and recovery of substance abuse among youth.
Also, $27,000 is in place to aid with the gang-free initiative. The student health center was built with grant funds.
School district spokesperson Curtis Campbell said the cooperative also helps as the entities can share facilities, such as gyms.
The five-page agreement inked yesterday doesn't call on the parties to spend a specific amount of dollars, but does call for any shared financial costs to be approved beforehand by an executive committee.
The 12-member committee includes community representatives ranging from youth and parents to business, local government and civic organizations.
More like this story