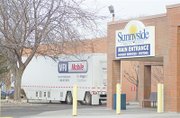 Soon the portable MRI trailer outside of Sunnyside Community Hospital will be a thing of the past.
That's because the hospital is undergoing renovations to install a permanent MRI machine.
In January the hospital and its contractors closed off 11th Street for two weeks to beef up its power grid to accommodate the new equipment.
"They needed a whole new transformer, it takes quite a bit of power to run that," says Jamey Ayling, a planning supervisor for the city of Sunnyside. He adds the hospital will have to retool inside to make way for the MRI machine, as it is sensitive to vibrations from outside.
Just last week, hospital officials submitted plans for installing the MRI equipment, and Ayling says the entire project has a valuation of about $600,000.
"It's been talked about for quite some time...about a permanent MRI versus the trailer," says Ayling. "In the last couple of months there have been more discussions."
Hospital officials say the new MRI equipment will be state-of-the-art and offer 24/7 service.
Besides the fact the MRI will be available around the clock and inside the hospital rather than a trailer outside, other benefits of the new equipment include a shorter scanning time, a larger opening for added patient space and comfort, a quieter experience for patients and a table surface with improved cushioning.
"A more spacious opening allows us to bring comfort to more patients and provide a non-claustrophobic experience," says Sunnyside Community Hospital CEO John Gallagher. "Images capturing the most finite of details at a faster scanning rate means the highest in quality and clarity without compromising patient comfort."
Coleen Goulet is the radiology director for Sunnyside Community Hospital, and she says the opening for the new MRI will be twice as big as the mobile one currently in use. In addition, she says it will be much quieter.
Goulet says after using a mobile MRI for 15 years the hospital felt an urgent need to install a permanent machine because of the growing number of patients it serves.
With a mobile unit available just three days a week, she says it's seeing 80 to 90 patients a month. Goulet says the hospital will likely see a bump of at least 30 percent in the number of patients served when the permanent MRI is in place.
Alan Van Beek is Sunnyside Community Hospital's physical plant manager, and he praised general contractor Mountain States Construction of Sunnyside. He said concrete had to be removed from the old courtyard and the Sunnyside company did a good job of keeping the work site and hospital clean during that process.
Ayling said the hospital received permits in January for work on 11th Street to prepare electrical upgrades for the MRI machine. He said the hospital paid a $525 deposit and $450 of it will be refunded once curbs and sidewalks are restored.
Since plans were just brought in last week for the $600,000 MRI remodel, Ayling noted those will be included in the permits issued during the month of February.
As for building permits issued by city staff last month, projects granted thumbs up included five remodels with a combined valuation of nearly $120,000.
One is for a $25,000 detached garage in the 400 block of Bagley Drive and another will enlarge a commercial repair garage in the 2400 block of E. Yakima Valley Hwy. That project has a valuation of $30,000.
A third garage project greenlighted in January is valued at $25,000 and will replace a residential garage in the 100 block of McLain Drive that was destroyed by fire.
Two other remodel projects have a combined valuation of nearly $40,000 and will add on bedrooms and bathrooms for homes in the 300 block of N. 13th St.
The combined total appraised valuation is $151,004 for all 25 building projects greenlighted in Sunnyside during the month of January. The city's coffers garnered $4,755 in permit fees last month.