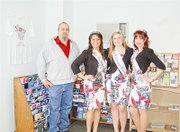 GRANDVIEW - The new office of the Grandview Chamber of Commerce has been open for a few months, but the chamber lacks a person to staff the front desk, according to board member Cookie Shannon at the chamber's open house yesterday.
The open house was an opportunity for visitors to check out the facility and speak with chamber board members. President Lonnie Hendrickson and the Miss Grandview court were available to give people a quick tour.
The chamber is known around Grandview for helping stage the annual Grape Stomp and hosting the annual community awards banquet. The chamber meetings that are held are an opportunity for business owners to network and learn more about the services of local companies.
"The main business of a company is sometimes not the only work they do," said Shannon. "We can keep business local if people know all the services available. Chamber meetings allow companies to spread the word on what they offer."
The Chamber is currently looking for volunteers to help staff the front office and answer questions about the city and its businesses. Board members also hope more business owners will attend monthly meetings.
"We have great speakers," said Shannon. "And meetings are only once a month."
The next meeting is Thursday, March 7, at noon in the banquet room of the Vineyard Restaurant.