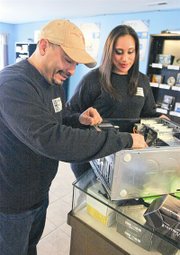 Roy Montelongo could almost forget the existence of time when repairing computers.
"I love working on computers, I could do it for hours," he said.
The Granger resident opened Montelongo's Computer Solution in Sunnyside nearly six months ago and says it's the best move he and his wife, Judy, have made for their career paths yet.
Montelongo says he's been working as a computer repairman for nearly 10 years and had previously worked for a company in Yakima, learning the tricks of the trade from a long-time, well-known professional in that city.
For Montelongo, it's exciting to see something that seems broken come back to life. He also enjoys that his work helps others in the community. Sunnyside was his top pick to open a business because of the location, at 317 Yakima Valley Highway, and because he enjoys the community here.
Montelongo also decided to add to his computer expertise a few amenities for his customers to enjoy...an almost one-stop shop.
When any avid gamer hears the lights of death, they know their Xbox gaming system is as good as junk.
"But we can fix that here," Montelongo said.
This entrepreneur says he also wants to help customers with anything they might need. That's why he's also added cell phone retail and security installation to his array of services offered at the Sunnyside location.
Montelongo says it's about helping others that gets him through the day.