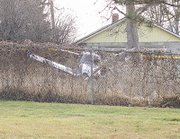 It was a close call for several people who were at the Sunnyside Community Center this past Saturday afternoon. A 1963 Piper Cherokee aircraft just missed hitting an SUV before it crashed-landed.
"It was scary," said eyewitness Yasmin Frausto. She described how the plane passed just over several cars in the parking lot, touched the ground for a moment, then slammed into a fence and tree at a nearby home. Both occupants of the plane walked away with only minor injuries.
Frausto and a number of other children were at the community center for indoor soccer games. The parking lot was relatively empty at the time, but more people were arriving for the soccer games and for a baby shower being held at the picnic area.
Jasmine Valencia was preparing for the party when she saw the plane crash just after 12:30 p.m.
"The plane was on its side, like it was turning," she said. "After it hit I could hear someone yelling 'get out, get out!' and the two men came running away from it."
Witnesses told Sunnyside police that the aircraft hit some power lines that cross I-82 near exit 67. The plane then approached the community center parking lot from the west.
"It couldn't stop," said Frausto. The plane lost a wing when it hit a tree at the edge of the lot, then slid several more feet before stopping.
Valencia said she called 9-1-1 as soon as she saw the crash. Both of the men in the plane were checked over by emergency responders before being released.
The names of the pilot and his passenger have not been released.
Federal authorities are in charge of the investigation into the crash.