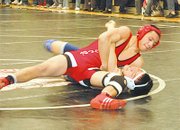 Two weeks ago Jesse Torres was a JV wrestler at Sunnyside High School. Today the sophomore is a State tourney qualifier.
Last Saturday at the 3A Region IV tourney held here in Sunnyside, Torres and nine Grizzly teammates qualified for the 25th annual Mat Classic state wrestling tourney.
It's the biggest group of Grizzlies to State in at least 35 years.
Wrestling at 106 lbs. Torres' spunk and persistence was typical of Sunnyside's very successful roller coaster ride last Saturday.
After dropping a tough 9-6 loss to eventual champ Kwest Osborn of University in the semifinals, Torres rallied with back-to-back wins to claim third-place honors. The top four in each weight class at Regionals advance to the Mat Classic 3A State tourney starting this coming Friday in Tacoma.
Like Torres, Sunnyside in general found a way to rebound all day...in a big way.
Sunnyside only had one individual champion, Jesse Barajas at 113 lbs., but made plenty of hay in the consolation rounds to advance an eye-popping 10 wrestlers to State.
"That's the highest number we've had since I've been coaching here!" says George Paulus, who's been coaching in the Sunnyside program 35 years, the last 25 as head coach.
Consolation crossroads
"We had 10 guys in the consolation semifinals and we won eight of them. Those were do-or-die matches and we got-em."
With four wrestlers in each weight class advancing, that meant the consolation semifinals were the deciding factor on who advanced and who didn't, as a win in the consolation semis clinched no worse than a fourth-place showing.
"You're at a crossroads right there to prove you're one of the top four," Paulus said.
The only two of Sunnyside's 12 wrestlers at Regionals to not claim a fourth-place or higher finish, Sam Romero at 152 lbs. and Jacob Mendoza (113 lbs.), both finished in fifth and will travel to Tacoma as alternates. Paulus says Mendoza and Romero led late in their respective consolation semi-finals, but fell in the last seconds and were relegated to wrestle in the fifth/sixth place contests. Both prevailed to advance as alternates. "It's a long shot that they'll wrestle, but sometimes the alternates get in," he said.
That's means all 12 Grizzlies who were at Regionals are State-bound, with 10 assured a place on the Tacoma Dome mats.
Sunnyside's consolation-round rallies vaulted them into second-place at Regionals with 168 points, topped only by University High School of Spokane, with 228 points. The next highest finish for a CBBN school was sixth-place Kamiakin with 67 points.
Breaking down
the numbers
Barajas was untested on his way to Sunnyside's lone individual title, never surrendering a score. He claimed his first match by a pin, his second by a 10-0 major decision in the semifinals and a 7-0 shutout in the title match over Kamiakin's Cesar Castillo.
"He's pretty skilled, he doesn't give up much and he's good on his feet," Paulus says of Barajas. "He hasn't given up a takedown all season...that's a big edge."
Homer Romero (106 lbs.) was the only other Grizzly to reach the championship finals, where he was decisioned 5-1 by Osborn to garner runner-up honors.
Santos Guerrero (120 lbs.) came oh-so-close to making it three Grizzlies in the title matches. He led, but lost 5-4 in the final seconds of the semi-finals to eventual champ Kiegen Schauer of Mt. Spokane.
Guerrero rebounded nicely to claim third-place honors with a 3-1 decision over Mt. Spokane's Alec Hoover in the third/fourth place consolation finale.
Grizzly Max Ramos (170 lbs.) emphatically punched his ticket to Tacoma with pins in his final two matches to earn third place honors. His lone loss was in the championship semis, where he was pinned by University's Austin Stannard.
Also earning bronze for Sunnyside was Austin Carman (220 lbs.) who, like Ramos, lost just once and that in the championship semis to eventual titlist Tom Harvey of Mt. Spokane.
The Grizzlies earned a foursome of fourth-place finishes. All four came through in the clutch, winning the all-important consolation semi-final, before losing the third/fourth place match after they had already advanced to State.
Anthony Chavez (126 lbs.) had the toughest road for any of Sunnyside's fourth-place medalists.
Chavez lost a 16-14 heartbreaker to eventual runner-up John Kim of Glacial Peak to open Regionals, then trailed in his next match - a loser-out contest - only to rally and earn a pin. That set up the all-important consolation semi-final tilt with Kamiakin's Damien Goody, which went Chavez's way by an 11-9 score.
Sunnyside's Christian Ruiz (138 lbs.) also just made it to Tacoma. After splitting his first matches, including a loss to eventual champ Ryan Gabel of University, Ruiz edged University's Dane Frobe 3-1 in the consolation semifinals to seal his place at the Tacoma Dome.
The Grizzlies' Noe Palomino (145 lbs.) also felt consolation semi-final pressure, and came through in a big way when he pinned Meadowdale's Nate Tibbott in just eight seconds to clinch a trip to Tacoma.
Sunnyside's other fourth-place medal winner was Daniel Avalos (182 lbs.). Like many of his teammates, he lost to the eventual champion early in the day - Glacial Peak's Sean Ellidge, in this case - but answered the bell in the consolation semis. In that match, Avalos scored a 14-4 major decision over Alex Himes of Rogers-Spokane.
Title hopes
for Sunnyside's
'Tacoma Ten'?
Jimmy Carter was president the last time Sunnyside won a State wrestling team title, and Paulus says this year's large contingent has a chance to break that dry spell.
"This can be the year," he said. "With 10 guys we've got enough to work with, we can do some damage."
Those hopes start at 106 lbs. with Romero and Torres, who though a JV wrestler at the end of the regular season was successful in varsity matches when Barajas, wrestling at 113 lbs., was hurt early on.
At one point early in the 2012-13 season Torres was the top-ranked 106-lb. wrestler in the 3A ranks while Romero wrestled as the state's No. 1 at 113-lbs. while he was spelling the injured Barajas.
When Barajas returned after Christmas, Torres saw his varsity mat time decrease as Romero returned to his customary spot at 106 lbs.
Now Sunnyside is in the sweet spot of having two wrestlers potentially compete in the semifinals at State at 106 lbs.
"The key is for Homer and Jesse to win on Friday and face each other in the semi-finals, that way we're guaranteed a finalist out of the deal," Paulus says.
The upshot is Sunnyside could potentially pick up 30 or 36 points in the 106-lb. weight class alone.
Overall, Paulus and his staff feel they could place at least seven or eight wrestlers at State. "It takes at least five State placers to win (a team title)," he notes.
He says seven placers won't necessarily guarantee a team title, as one year Sunnyside had seven medalists at the Mat Classic and brought home fifth-place honors.
But seven or eight medal winners or more sure would be fun for Sunnyside's Tacoma Ten.
Seven or eight placers at State, Paulus adds with a laugh, "...will keep us busy if that happens. We'll be flying all over the place."