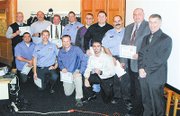 Sunnyside firemen work 'round the clock to ensure local citizens stay safe.
What many may not know is they, too, offer and instruct EMT and CPR classes to the public among other public service.
For their dedication and commitment to the city, Sunnyside Fire Department personnel were lauded for their hard work at the annual firemen's banquet held this past January at Snipes Mountain Brewery in Sunnyside.
All year long firemen observe each other's performance to see who goes above and beyond the call of duty. This past November, nominations were cast for career and volunteer firefighters of the year.
Sunnyside Fire Department Deputy Chief Lloyd Hazzard says usually the awards go to the firemen who are working endlessly, more than they are asked to.
As its 2012 volunteer firefighter of the year, Miguel Barrios is said to have been chosen for the honors because he shows plenty of interest in the department.
"He's always here and always willing to do things, above and beyond what is needed or required of him," Hazzard said.
As for Dennis Blumer, the department's 2012 career firefighter of the year, coworkers say he's shown tremendous commitment and dedication to the department and its mission to serve the community. His commitment shines through with the endless hours of instructing CPR classes he puts in and also serving as an EMT instructor.
"Not only does he do a lot for our department, he helps out at other (surrounding) places, too," Hazzard added.
Volunteer firemen are annually reviewed and honored on how many calls they respond to when not on duty.
These firemen are named "top responders." In addition to the two firemen of the year, volunteer firefighters Ed Laverman (1st) Alan Van Beek (2nd) and Chad Werkhoven (3rd) were also given accolades for earning top responder honors.