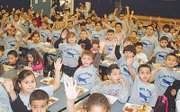 Friday's have a whole new meaning at Sunnyside's Pioneer Elementary School. That's because students and staff all show their true colors in the form of "Puma Pride" t-shirts they all wear each Friday.
Think TGIF with a Puma - the school's mascot - thrown in for good measure. Something like TGIPF for Puma Fridays.
Esteban Florian is the assistant principal at Pioneer. When he found out it had been three or four years since the school had t-shirts he felt it was time for an update.
Problem was, though, the shirts cost $8 to $10 each and, with the entire school district eligible for free lunches due to low income levels, Florian was concerned that many families couldn't afford the shirts.
"I wanted everybody to get a t-shirt," he said.
After some brainstorming with Pioneer's building committee, the school set about on a fundraising drive to collect the $4,000 or so needed to buy shirts for all 813 students at the school.
The fundraising drive started late last year in earnest, including a night at McDonald's where Pioneer staff worked and raised half of the funds.
The other half came through a combination of business and anonymous donors and even a penny drive conducted by students.
When it was all said and done, the shirts were paid for and ordered and distributed to children just before Christmas.
In the six weeks since, Florian says students and staff wear their shirts each Friday to show Puma pride.
"It's a way to be proud of your school and community," Florian smiles. "Sometimes I'll run into the kids at the store and they'll smile and show me their Puma pride shirts."
Though there's not data on hand to know for sure, Florian says children seem to be even better behaved than usual on Fridays because they know that day they'll all be wearing the school shirt with official logo and colors.
Speaking of colors, the shirts are coordinated so that staff have blue Puma pride shirts and students gray shirts. Florian says that just helps keep things organized on Friday's when everyone's dressing alike.
He hopes to be able to apportion out the fundraising so that new t-shirts can be purchased for students every two years.
In the meantime, Florian encourages teachers to make sure children this year received shirts that were a little big to allow for growing room next year.
The shirts certainly are growing in popularity with the students.
"I like the colors," says second grader Alexis Amaro. "They're really cool," adds classmate Natalia Alvarez.
Another second grader, Yajaira Garcia, shared a shy smile, then beamed, "It makes me feel special!"