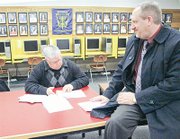 GRANDVIEW - This past December the Grandview School District was awarded a state energy grant from the Office of the Superintendent of Public Instruction.
The grant, totaling $457,274, was awarded to help with district-wide energy saving measures.
With the 2012 Jobs Now Act, an energy operational cost savings grants program, schools statewide received $14 million for the first round of energy conservation grants.
At this past Monday night's Grandview School Board meeting directors approved a resolution stating they will follow procedures to accept the recently awarded OSPI grant.
As part of the procedure to accepting the grant, school board directors needed to show state officials of their intent to adhere to the rules and procedures of the grant.
Of those procedures, the district agreed to use the funds awarded only for that which it was intended for. Other procedures included keeping the state agency informed on all levels of the project's progress.
The district was awarded $457,274, and those funds will go towards an estimated $785,915 project to improve insulation, windows and other energy efficient upgrades to the district's schools.
McKinstry Inc., a full-service design, build, operate and maintenance firm, has been working with the Grandview School District making recommendations for conservation improvements.
After an assessment of Grandview schools, McKinstry officials say that Thompson Elementary School, along with the middle and high schools, are in need of building control optimization.
The firm also suggested last October that the high school obtain a new boiler or chiller. Notes from the assessment indicate the Cleaver Brooks broiler at GHS is 35-years-old and past its useful service life.