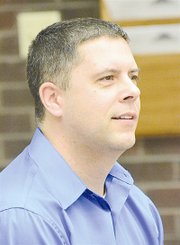 GRANDVIEW - Before the Grandview City Council decides to place a private utility tax on the August 2013 primary ballot, it wants to hear from the public.
That was the consensus of the council members at last night's workshop meeting.
The council agreed the community would be well-served if an informational meeting was held before it decides to pass a resolution, especially considering it will cost about $6,000 for a private utility tax to be included on the ballot.
During the informational meeting, the council hopes to discover whether or not the citizens are willing to support such a tax, how much the citizens are willing to pay and if volunteers in the community are willing to promote the proposal.
"We're going to have to have citizen groups pushing it," said Mayor Norm Childress.
Grandview City Clerk Anita Palacios said the council can pass a resolution in support of a proposed private utility tax, but members of the council cannot promote the tax.
Clarifying the issue, City Attorney Quinn Plant told the council members they can explain their position on the proposal in an unofficial capacity.
"Council members can act as private citizens," he said, noting city employees, too, can also explain their position as private citizens.
Councilwoman Joan Souders said she has heard from citizens willing to promote the proposed tax, including Marsha Wagner and the community board members.
"Their (the community board) big thing is they want Gretchen (Chronis) back (in the Parks and Recreation Department)," she said.
The council members, noting there can't be any promised funding for specific city departments, decided the citizens should be provided a fact sheet. That sheet would give general information regarding what the city hopes to accomplish with additional revenues and a definition regarding which private utilities would be subject to the tax.
Childress said he has been telling people, "It's a positive that we have a balanced budget...this is so that we can go the extra mile. We're just trying to make Grandview better."
If the council decides to move forward with plans of placing the private utility tax on the August ballot a resolution must be passed by May 10.
With that in mind the council decided it would be prudent to provide citizens with an opportunity to share feedback.
The Grandview City Council is looking at holding such a meeting at the Grandview Community Center on Tuesday, March 19, at 6:30 p.m.
"We're going to get out and try to put our thumb on the pulse of this metropolis," said Childress.
Mayor Pro-Tem Pam Horner said the council is interested in hearing from citizens of all ages, including the community's youth.