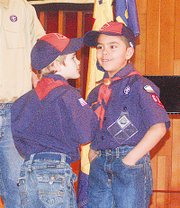 Participating in camps, building birdhouses and learning the Pledge of Allegiance and how to be good, dependable citizens are just some of the accomplishments that were singled out last night, Tuesday, during Cub Scout Pack 630's Blue & Gold Banquet.
The Sunnyside-area pack formed just last year and held its banquet at the Presbyterian Church.
More than 20 scouts received pins and badges prior to last night's banquet, and were recognized for achievements and moving up the scouting ranks.
"I feel really happy," gushed 7-year-old Ricky Bishop as he clutched a packet of awards that included his Wolf badge.
Also last night, scouts entertained a good-sized crowd at the church with humorous skits and a song.
The pack also took time to display the colors, salute the U.S. flag and recite the Pledge of Allegiance.