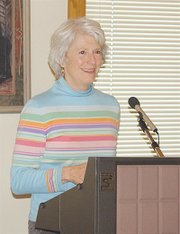 On Saturday, March 16, a number of residents of Sunnyside will walk a two-mile loop starting and ending at Chief Kamiakin Elementary School to raise money to fight hunger, both locally and around the world.
The effort is part of Church World Service, a partnership of 37 different Christian denominations working around the world to provide disaster relief, fight hunger and foster self-development. The funds help people who have very little and sometimes must travel a long way for basic needs.
"We walk because they walk," Pastor Katie Haney told the Sunnyside Noon Rotary Club this past Monday. "They walk to get clean water. They walk to get supplies. They walk to sell their crops at market."
This year will mark the 10th anniversary of the Sunnyside CROP Walk sponsored by the Sunnyside Ministerial Association. Last year more than 50 walkers from 12 different local churches raised more than $1,000. Each year 25 percent of the money raised stays local, supporting food banks.
Haney said the Ministerial Association wants to spread the word and get more support for the walk this year. The entire community is invited to participate by getting sponsors and coming out at 9 a.m. on March 16 to join in the walk.
For more information contact Haney at 840-3456 or visit the CROP Hunger Walk website at www.cropwalk.org.