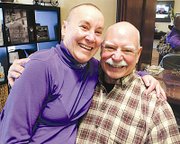 It's every spouse's worst-case scenario when they learn the person they love most on this earth is diagnosed with cancer. It's how one responds to that diagnosis that is the true test of character.
Dr. Hugh Shiels this past December showed his wife, Kathy, how much he truly loves and supports her.
She was diagnosed with ovarian cancer last October and on Dec. 5, 2012 began chemotherapy treatments.
It was about 10 days later that Mrs. Shiels noticed the effects of the treatments. Her hair began falling out and she decided to be proactive.
"She asked Patsey Wiersma to shave her head," said Dr. Shiels.
He said he made the same request of Wiersma because he wanted to show his support for his wife.
Wiersma said she sat him in the chair and asked, "The same thing?"
At that point, said Wiersma, Mrs. Shiels thought Wiersma had misunderstood Dr. Shiels' request.
"I shaved one half of his head, turned him around and said, 'This is true love'," said Wiersma.
The couple will this coming June celebrate 40 years of marriage. They said they've always considered their marriage a true partnership.
"The cancer was just another bump in the road," said Dr. Shiels.
Mrs. Shiels agreed, stating they have always faced challenges and moments of joy together.
"I needed a haircut," Dr. Shiels joked, stating he believes in showing his love by supporting his wife.
Mrs. Shiels said she was surprised at the gesture and responded to her husband's "haircut," stating, "You're gonna get cold."
She said she was emotionally touched that her husband would show his love for her in such a way.
Wiersma said she hadn't ever had a request like the one made by Dr. Shiels. "I've never had a spouse ask me to shave their head."
She said there wasn't a dry eye at Celina's Styling Studio. Everyone in the salon was teary over the love shown by Dr. Shiels.
He believes it is important to support those fighting cancer and to honor those who have lost the battle.
The Shiels said they have been longtime supporters of Lower Valley Relay for Life and want members of the community to support the fundraising event this year.
Mrs. Shiels recently completed her chemotherapy treatments and Dr. Shiels said the couple doesn't yet know if her battle is over.
"If nothing else, I ask that people purchase a luminary," Dr. Shiels said, stating he believes the luminaria part of the local Relay for Life event is an important way for people to show their love for everyone they know who has had to endure a similar fight "...whether they survived or died.
"Everyone has been touched by cancer."