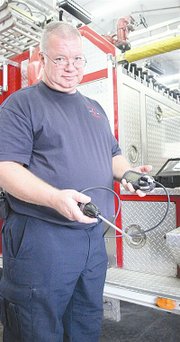 GRANDVIEW - With several industrial businesses in need of the refrigerant ammonia, the Grandview Fire Department wanted to make sure they had the tools to keep the community and businesses safe.
With the help of several Grandview businesses, the department was able to purchase two ammonia detectors earlier this year. Though ammonia leaks are scarce in Grandview, when equipment breaks down, it's best to be prepared for the worst.
Excessive exposure to ammonia, according to experts, can cause burning and ultimately death, if extreme enough.
Grandview Fire Chief Pat Mason says Grandview businesses, including Conrad and Adams Fruit, Fruit Smart, Kenyon Zero Storage, J.M. Smucker Company, Olsen Brothers Ranches, Sunfair Marketing and Welch's, all contributed $500 towards the purchase of the equipment.
"It's just one more tool to confirm our (and the community's) safety," Mason added.
The ammonia detection equipment, says Mason, not only detects whether or not ammonia is in the air, but it also detects at what level it has penetrated the air.
Mason says most folks can endure, unharmed, 35 parts-per-million of ammonia. More than that requires protection, much of that like the fire protection equipment firemen wear while on the job. More than 300 parts-per-million of ammonia, Grandview firemen aren't prepared to handle. So, Mason says the detection equipment tells them whether or not it's safe for local firemen to enter the scene.
He also says considering the number of industrial businesses in Grandview, the more tools to ensure safety for the community, the better.
Most of all, Grandview firemen say they're thankful for the contributions from the community businesses to help purchase the needed equipment.