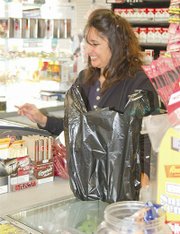 Lisa Alvarez wants people in Sunnyside to attend the sporting events of the Sunnyside High School teams.
"Go support them, they're big," she said. "It's really fun. Sunnyside has a big group of athletes that try their hardest."
Alvarez works at the Minute Mart on South 13th Street, partly for the flexible hours that allow her to attend games her daughter plays for SHS.
"I attend the majority of events, even the out-of-town ones," she said. "I go to all my daughter's games I can get to."
Ironically, although she was raised in Sunnyside, Alvarez didn't graduate from Sunnyside High School.
"I spent a couple of years in New Mexico and graduated from Escalante High School there," she said. "Everyone else in my family graduated from Sunnyside High School."
Alvarez said Escalante's colors were black, red and white, like Sunnyside.
"I was always a Grizzly," she said. "Sunnyside is my school. I didn't graduate from it, but it's my school."
Alvarez comes from a large family, with six brothers and a sister. She has two children, one going to the University of Washington. All of them graduated or will graduate from SHS. Even her boyfriend was a SHS wrestler.
She's been working at the Minute Mart for almost five years. She had a job in Yakima for a time, but found it was difficult to be there for her children when she worked so far away.
The family that owns the Minute Mart helps to make sure she can be at her daughter's games. She said she enjoys the customers who come in, greeting many of them by name.
She wanted to get one customer to attend some girls basketball games, and so she prepared wrappers that said "Go Grizzlies" and "Grizzlies Girls Basketball" on them to wrap around his purchases.
"He got the message," she laughed.