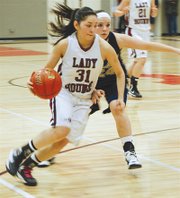 The Lady Greyhounds got a bit of a scare last Friday night as the Selah Vikings poured it on for a close finish, 55-51, in the match-up between the CWAC's number three and five teams.
The Lady 'Hounds got off to a very slow start in the game and were behind until just before the half, when they took the lead. But the Vikings tied the game, 26-26, before intermission to keep tensions high in the gym at Sunnyside High School.
The Lady Greyhounds came out of the break determined to win, but so did the Vikings. The teams traded the lead before Grandview managed to hold off Selah in the fourth quarter for the win.
"I thought we got some good minutes from a group of girls that persevered after an emotional night against Ellensburg two nights before," said Grandview Coach David Gibb. "When things don't go the way you want them to, and you come off an emotional night like the one we had against Ellensburg, there can be a bit of a letdown."
Leading the Lady Greyhounds as usual was Payton Parrish, who bucketed 34 points in the win to account for more than half her team's points. Parrish also snagged six loose balls off the glass.
The ever-reliable Marissa Caballero canned another 15 points for the Lady 'Hounds. Karissa Trinidad and Breanna Lopez each pulled down eight rebounds while Jamila Shafer tallied another seven recoveries for the team.
"The girls battled through a tough night against Selah and earned a needed home game against Pullman," said Gibb.
The loser-out Regional tourney game against Pullman, the No. 2 team in the Great Northern league of District 7, will be held tomorrow night, Feb. 19, starting at 6 p.m. at Grandview High School.