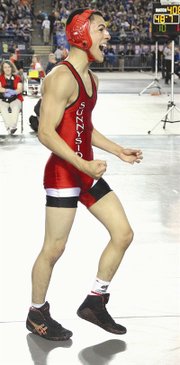 TACOMA - The Grizzly wrestling team capped off its best season in nearly two decades with a third-place team finish last Saturday at the 3A State wrestling tournament.
It was Sunnyside's highest team finish and first team trophy since 1996. Only the top four teams earn trophies.
"Since then (1996) we've placed fifth, sixth, seventh and eighth, so this was nice to bring home a trophy," Coach George Paulus said.
Held in conjunction with Mat Classic XXV at the Tacoma Dome, the 3A field quickly became a three-horse race as the Sunnyside boys finished with 130.5 points. The Grizzlies were topped only by team titlist University High School of Spokane at 142.5 and Decatur at 138.5 points.
The three teams were in that same order after the first day of action last Friday, with only 10 points separating them.
As an example of just how far in front the top three were, the fourth place 3A team, Enumclaw, was way back at 92 points.
Coach George Paulus figured Sunnyside would need seven medalists to challenge for the team title, and that's exactly how many the Grizzlies came up with out of 10 qualifiers for State.
Sunnyside was sparked by a pair of State champions in Homer Romero (106 lbs.) and Jesse Barajas (113 lbs.). Both grapplers had to battle through overtime sessions to win their respective championship matches.
Two medals at 106 lbs.
The 106-lb. weight class played out according to Paulus' dreams, with Romero and Sunnyside JV qualifier Jesse Torres both winning their first two matches last Friday to clash head-to-head in the semi-finals.
Romero was virtually untouched in winning his first two matches, as the junior recorded a pin in just 91 seconds over Ferndale's Mike Carpenter and romped 14-1 over Mercer Island's Taylan Yuasa.
Torres, a sophomore, reached the semis with a bit more fight, outpointing Oak Harbor's Christian Bertram 9-2 and Enumclaw's Kyle Opland 5-1.
In the all-Sunnyside semifinal that ensued, Romero outlasted his teammate 4-1 to reach the finals.
In the 106-lb. title match, Romero had an even bigger fight on his hands against Stanwood's West Weinert. Romero trailed 3-0 in the third period but prevailed in overtime by a score of 6-4.
"The kid seemed to be fading a little bit, so in the overtime Homer pushed the pace," Paulus said of the win.
For his part, Torres saved his best for last with a 15-2 whipping of Kelso's Jared Newburg followed by a pin in only 43 seconds over Opland in the third/fourth place match.
"Jesse bounced back from it (his loss to Romero) really well," Paulus said. "He only lost to the State champ. You can't ask for much more than that. It bodes well for him next year."
Barajas the best
at 113 lbs.
Barajas held his opponents scoreless at Regionals a week ago, and in his first two matches at State gave up just a single point as he prevailed with a pin in 2:15 over Timberline's Nico Laiuppa, followed by a 7-1 decision of Kelso's Abundio Victoriano.
In the semi-finals, the junior had a tougher time against Leviticus Arizpe of Decatur, but still came out on top 11-6. That set the stage for the 113-lb. finale, which Barajas led early, only to see University's Cam Sorensen bounce back and force overtime. Barajas took control in the extra session for a 12-10 championship victory.
Barajas, who recorded his third State medal in three years, at one point led 10-3 in his title match, only to see the lead wilt and Sorenson force overtime with a takedown in the last five seconds of regulation.
Like Romero, Barajas went on the attack in overtime to finally seal the deal.
"There was lots of emotion," Paulus said of winning back-to-back championships in overtime. "There were tight moments, but the bottom line is the guys stepped up when they need to."
Paulus added, "It's always pretty special to have State champions, but to have two of them back-to-back is cool."
Fourth place honors
at 120 lbs.
If not for Prairie's Wil Treadwell, Sunnyside might well have had three wrestlers reach the championship finals.
That's because at 120 lbs., Sunnyside's Santos Guerrero defeated everyone else except Treadwell, who bested him twice.
After scoring a pin in his first-round match, Guerrero was pinned by Treadwell in 1:33 in the quarter-finals.
The Sunnyside senior fought his way back from that loss, though, and won back-to-back consolation matches, where a loss in either match, would have ended his tourney.
In his first consolation match, Guerrero outpointed Mt. Spokane's Alec Hoover 5-1, then punched his ticket to the medal round with a pin in 4:41 over Lincoln's Avery Meyer.
The clutch wins advanced Guerrero to the third/fourth place match, where he was again bested by Treadwell and again by a pin, in 2:07.
Like Barajas, Guerrero's medal was his third State honor as a Grizzly.
"Santos bounced back really well," Paulus said. "Sometimes when wrestlers lose a semi-final match they get depressed and take it with them to their next match."
Ramos rallies at 170 lbs.
After recording a first-round pin, Sunnyside's Max Ramos found himself also having to battle back after a second-round loss.
The senior started his climb through the consolation round with a pin in 4:47 over Cody Stone of Marysville-Getchell.
Ramos' rally into the trophy round continued with an 8-6 squeaker over Mercer Island's Nick Chandler.
Ramos then fell 12-11 in the consolation semi-finals to Oak Harbor's Courtney Shavers. "He was down by 11-3 at one point and all of a sudden just turned it on and started scoring," Paulus said of the scoring spurt by Ramos.
In the fifth/sixth place match Ramos lost by a pin in 2:45 to Peninsula's Luke Holsinger.
"Max put together one heck of a tourney," Paulus said of Ramos, noting he didn't start wrestling until he was a sophomore. "His tank was empty at the end...he had to come from behind so many times."
Avalos holds on
for sixth place
At 182 lbs., Sunnyside's Daniel Avalos took a different route to sixth place on the medal stand. Avalos, a junior, advanced all the way to the championship semi-finals before losing to eventual champion Sean Elledge of Glacial Peak by a pin in 1:57.
Avalos then fell in the consolation semis and in the fifth/sixth place match to settle for sixth-place honors.
"He got upset with himself after losing in the semi-finals and lost two in a row," Paulus said of Avalos. "I tried to remind him that he lost (in the semi-finals) to the State champion."
Carman cruises to third
Austin Carman (220 lbs.) also fell to the eventual champion in his weight class - a quarter-final loss to Timberline's Stone Hart - but rebounded well in the consolation rounds to claim third-place honors.
In fact, the loss to Hart was Carman's only defeat at the State tourney, as he cruised through the consolation round with an injury default victory followed by back-to-back pins.
Those three consecutive wins vaulted Carman to the third/fourth place match, where the junior prevailed 9-2 over Dwayne Robinson of Rogers/Spokane.
"Austin had a great tourney but he had an unfortunate draw," Paulus said of having to meet Hart in the semi-finals. "Stone Hart is the defending State champion and Austin wrestled a great match against him. Hart is a big stud, a big dude that is just powerful and Austin gave him all he wanted."
Strong in the
medal rounds
Last year Sunnyside also started strong at the Mat Classic, then struggled in the medal matches.
This year, the Grizzlies prevailed in most of those matches to vault them to a place on the team medal stand.
"This year we didn't fall apart," Paulus said. "It was critical that we just keep the faith, keep going forward."
The difference this year, he added, came down to a combination of experience, conditioning and wrestling ability. "The guys stepped up and did what they needed to do for the most part."
Only three of Sunnyside's State qualifiers failed to medal; Noe Palomino (145 lbs.) and Anthony Chavez (160 lbs.), who both went 1-2, and Christian Ruiz (138 lbs.), who went 0-2. Paulus said the similarity for each of the three was a tough draw, facing wrestlers right away in the tourney who ended up as State champions or appearing in the championship match.
Win or lose, though, Paulus was gratified to see and hear the response of so many Sunnysiders who made the trip to Tacoma to cheer on the Grizzlies. "I want to thank all the people who came to support us," he said. "It's helpful to have people from home over there raising cain. It was good times, good times."
One goal
The numbers look promising for Sunnyside to give its fans even more to cheer about next year.
The Grizzlies return seven of last weekend's 10 State qualifiers, including two State champs. It will be the first time Sunnyside returns not one but two State champs.
Those numbers are giving the Grizzlies hopes for 2013-14.
After all the goals set and accomplished this year, including getting a team trophy and having seven medalists, Paulus says there's just one goal for next year.
"Our goal is to win it (State) next year, we have that one goal and it's to win this thing," he said.
Reaching that goal, Paulus adds, isn't just about returning great numbers but how the Grizzlies approach the off-season, doing the work necessary in the weight room and at wrestling camps.
Part of the off-season plan, Paulus says, is to prepare Romero and Torres to wrestle in different weight classes to give both a chance to advance all the way.
"We have the guns to do this and we have some good talent waiting in the wings," Paulus says of Mat Classic XXVI title chances. "Hopefully the guys are looking forward to next year because I know I am. I can't wait."