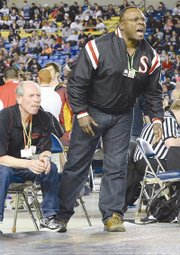 TACOMA - The Sunnyside High School girls wrestling program, believes Coach Terry Shines, may be on the cusp of greatness.
He might be right.
A pair of third-place efforts by senior Abigail Elizondo and sophomore Jessica Cardenas, and a promising performance from freshman Daisy Chavez got the Lady Grizzlies to within three spots of a Top 10 finish in the team standings at the Mat Classic XXV Championships in the Tacoma Dome this past weekend.
Shines says there is no reason the SHS girls wrestling team can't become the type of powerhouse that its counterpart - the Sunnyside boys wrestling squad - has turned into year in and year out.
"We've got lots of girls walking the hallways at school," said Shines, some of whom have expressed a desire to jump on board with the other Lady Grizzly grapplers and others who just need a gentle nudge to become part of the program.
"I think we'll be very, very tough next year," Shines said. "If we continue to get more and more girls out for the program, I see us being - consistently - a Top 3 team when the State tourney rolls around."
The goal, he continued, will be to piece together the type of girls wrestling program that Warden High School has fashioned.
Warden?...pint-sized, out-in-the-sticks Class 1A Warden?
"Oh yeah, they've got one heckuva girls wrestling program built up there," Shines continued. So strong, that the small high school that draws its enrollment from the tiny Central Washington town of just more than 2,000 people easily ran away with the Mat Classic XXV team title.
Officially, Warden claimed the girls team title this past weekend in the Tacoma Dome by totaling 113.5 points. Mt. Baker, another Class 1A school, was a distant second with 84 team points. Class 3A Kelso and 2A Grandview secured the other two team trophies awarded this past Saturday evening by tallying 81.5 and 69.5 points, respectively.
In attempting to elevate Sunnyside into becoming a perennial contender at State, and build on the 13th place team finish it managed by piling up 41 points, local athletes need look no further than the senior Elizondo for inspiration. The 130-pounder returned home with her second straight State medal.
A fourth-place medalist as a junior, Elizondo capped her prep career by absorbing just one loss at State this, her senior season. That netted the scrappy wrestler the third-place medal.
Elizondo cruised into the 130-lb. semi-finals last Friday by pinning her first two opponents. She made short work of Stanwood's Shannon Gee, scoring a fall late in the first period of their opening round match. In the quarter-finals Friday afternoon, Elizondo was nearly as dominant, notching a second-period pin against Washougal's Erin Locke.
That victory set Elizondo up for a semi-final tilt against highly regarded Mariah Horton of Kelso. Like Elizondo, the Kelso sophomore won her opening two bouts by pinning her opponents, the second one in just 26 seconds.
In what some may have thought should have been the championship match-up of the 130-lb. bracket, Elizondo and Horton gave Tacoma Dome fans a semi-final thriller to remember.
"The two of them ended up being pretty even on their feet," Shines said of Elizondo and Horton.
Once down on the mat, it was the Kelso grappler who managed to put a few moves together, tallying seven points in the process. Elizondo's shining moment came, said Shines, when the Lady Grizzly caught Horton in a cradle and scored a three-point near fall.
Unfortunately for the SHS senior, it would be the only points she could muster against Horton, eventually succumbing by a 7-3 score.
The win advanced Horton into the championship round, where she scored the third fall in her fourth match of the weekend to secure the 130-lb. title. Horton's finals opponent was Warden senior Miexy Gonzales.
After the loss to the eventual State champion, Elizondo pinned South Kitsap senior Caleenda Johnson in the consolation semi-finals, just 12 seconds into the second period. The win set up a consolation finals bout against Mt. Baker senior Megan Young to decide the third and fourth-place finishers. Elizondo out-pointed Young decisively, 16-11. Shines said the crowning moment of that match came when Elizondo caught Young with a head-and-arm bar move and rolled the Mt. Baker girl onto her back for a near fall.
"It was a great way for (Elizondo) to go out," said Shines. "A two-time, back-to-back State medalist...a good finish to her high school wrestling career."
Sunnyside's other third-place medalist in the Tacoma Dome, the sophomore Cardenas, took the exact same route as did Elizondo.
Wrestling at 170 lbs., Cardenas opened Mat Classic XXV with back-to-back pins. The strapping, well-toned Lady Grizzly notched the falls against Washington High senior Jasmine Jones in the second period and LaConner junior Amber Drye late in the final round of their quarter-final bout.
In the semi-finals, as did Elizondo, Cardenas ran up against the eventual State titlist, in this case White River senior Samantha Mitchell. The upper classman edged out front in the tightly contested match by a 3-1 score through the opening two periods. Shines said Cardenas started the third period in the down position, and Mitchell caught her with a move and rolled her onto her back and scored a pin just 27 seconds into the final round.
Cardenas recovered, scoring a fall of her own in the consolation semi-finals against Erika Lindholm of Sedro Woolley. In the bout for third and fourth-place honors, pitted against Mountain View senior Kearstin Williams, the SHS sophomore was clinging to a 5-3 lead late in the match. Cardenas iced the victory, said Shines, by catching Williams in a cradle and scoring a near fall to account for the final 8-3 score.
Of the one loss Cardenas sustained at State, against the eventual champion, Shines said he believes the SHS sophomore was talented enough to have defeated her.
"That match was winnable for (Cardenas)," he said. "A little more maturity, a little more mental toughness...it might have been enough to have gotten her the win.
"But she's got some experience now, and we're looking for even better things out of (Cardenas) the next two seasons," Shines said.
Sunnyside's one other entry at State, the freshman Chavez, probably couldn't have pulled a much tougher draw. Her first assignment was taking on fellow freshman Jordyn Bartleson of Puyallup. Shines said it may have been a case of stage fright, or "...psyching herself out," but Chavez couldn't mount any type of charge against the Puyallup wrestler. Getting shut out but still hanging tough through the middle of the final period, Chavez finally succumbed and was pinned.
Bartleson ended up going on to win the 118-lb. title.
Forced into the consolation bracket, Chavez rallied back to notch a 9-5 decision over Centralia sophomore Hailey Huerta. The victory included scoring one near fall.
Up next for Chavez was Winlock senior Kelsey Jones. Described by Shines as a quality competitor, Jones did in the SHS freshman by pinning her early on in the second period. Jones finished the State tourney by taking home the seventh-place medal.
All-in-all, said Shines, Sunnyside's three wrestlers at Mat Classic XXV represented SHS well.
"And, I think it's only going to get better for us," he said. "We had a good group of athletes out this season, we have some talented wrestlers returning next season and if we can get even more girls to turn out for the team, I believe this program can step up to the next level."