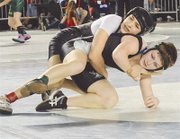 TACOMA - With just three ladies wrestling at Mat Classic XXV, Grandview Coach Jeff Sevigny couldn't be happier after the team secured fourth-place honors against much larger teams.
Two Lady Greyhounds, Marizza Birrueta and Desiree Zavala, earned championship titles in the 100 and 124-lb. weight classes, respectively. The third Grandview wrestler, Viannei Perez, earned third-place honors.
The two champions were Sevigny's first-ever titlists during his head coaching career. He has been Grandview's coach for 17 years.
"It's wonderful," he said this past Saturday.
All three of the Lady 'Hounds are underclassmen. Birrueta is the veteran of the trio as a sophomore.
Sevigny is proud of the team for having represented the Yakima Valley well. "Grandview is the first girls team in the Valley to ever bring home a State trophy," he said, noting the Lady 'Hounds were just 14.5 points out of second-place.
Grandview scored 69.5 points overall. Warden, a 1A team, won Mat Classic XXV with a tally of 113.5 points.
Sevigny said he believes the future is bright for Grandview since all three Lady 'Hounds will be returning to the mat next season.
"We just hope we can recruit a few more girls for next year that are willing to work hard and make a run at another trophy," he said.
Birrueta opened the State tournament with a match against Kaitlyn Kroneman of Rogers. The Lady 'Hound battled Kroneman and secured a pin in 5:07.
The second round of action ended with a major decision, 13-2, for Birrueta, who defeated Mireille Powers of Kelso.
Another Rogers High School grappler, Kendra Smith, was Birrueta's next opponent. The Lady 'Hound took Smith to the mat and pinned her in 3:10 to qualify for the championship round on Saturday.
The championship bout matched Birrueta with Deianeira Caudle. Birrueta had the upper hand, having a 3-1 advantage until the final seconds of the third period. Caudle scored takedown points to tie the match 3-3 when the regulation whistle was blown. The duo went into overtime and Birrueta scored a quick takedown to win the championship by a 5-3 decision.
Emotions were high and tears were shed as the Grandview coaches and Birrueta prepared to support Zavala, who had also made it to the championship bout for her weight class.
Zavala had opened the tournament with a pin in 3:34 over Haven Camden of Washougal. She defeated Cassidy Meyers of Kentwood by an 8-0 decision and was able to secure a spot in the championship round after defeating Jessica Mata of Mt. Baker by technical fall (19-2) in 5:20 in the semi-finals.
Zavala, however, knew she would have a tough opponent in the championship round. Tatum Sparks of Othello, a familiar face, was also seeking her team's first championship title. However, Zavala had beaten Sparks during the regular season.
The Lady 'Hound took control early in the match and using her skills was able to subdue Sparks on the mat for a 2-0 decision to win a title for Grandview.
"Viannei, Desiree and Marizza are three of the most outstanding young women in the school and have set the bar high for other girls to follow," said Sevigny.
Perez, at 112 lbs., had a good day Friday. She opened Mat Classic XXV with two wins. The first was a 9-1 decision over Elesha Forrest of Darrington. In the second round of action, Perez defeated Mackenzie Schwendeman of Gig Harbor by a 5-3 decision.
However, Perez ran into a little trouble when she competed against Taylor Lee of Kentridge in the semi-finals. Lee had just won a match with a pin and her confidence was up. She secured the pin over Perez, rocking the Lady 'Hound in a cradle in 2:02.
Perez battle back through the next two rounds of action. She defeated Burlington's Casandra Beccerra by an 11-2 decision before moving into the consolation finals against someone very familiar to her, Mary Gutierrez of Mabton.
Perez had two times squeaked past Gutierrez in the District and Regional tournaments and knew the bout would be a rough one.
The two battled through all three rounds, but it was Perez who earned the 4-3 decision to claim third-place honors at State.
Sevigny said, "These girls are great leaders and role models...it's inspiring to see the hard work, dedication and sacrifice that these girls demonstrated throughout the season."
Birrueta this past Saturday said, "It's unbelievable...I can't believe we did it (placed fourth)."
She said she was proud of her teammates and all that they accomplished this season.
All three girls said they are looking forward to next season and are happy they were able to do so well for themselves and their coach.