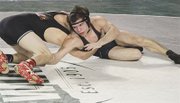 TACOMA - Grandview's Joesiah Saunders was the lone Greyhound representing the boys team at Mat Classic XXV.
He came home with seventh-place honors in the 132-lb. weight class after having a rough couple of days.
Saunders had to compete in six different matches before standing on the medals podium.
He opened action with a bout against Jon Day of North Mason and defeated Day by a major decision, 11-0.
The second bout proved to be more difficult as Saunders battled Cameron Nolan of Tumwater. Nolan came out on the winning end with a 6-3 decision.
That defeat moved Saunders into the consolation rounds and he had to fight for his life on Friday night.
The Greyhound was up against Josh Tucker of North Kitsap. Both were trying to stay alive, but it was Saunders who made it into Saturday's matches after winning a 4-3 decision.
Orting's Rico Ybarra was next on the list of opponents for Saunders. It was Ybarra who would prevail by an 8-3 decision, but Saunders still had one last match that would decide whether he would win seventh or eighth-place honors.
Tanner Zavala of Burlington in the final bout couldn't overcome Saunders' power. Saunders had a couple of takedowns to secure a 4-1 decision for the seventh-place medal.
"Joesaiah should be proud of his seventh-place finish even though we all, including Joesiah, feel he could have done much better," said Grandview Coach Jeff Sevigny.
He praised Saunders for an outstanding year, noting the seasoned veteran earned top honors at Ephrata, Grandview and the Henry Foss Invitational tournaments. "Saunders was fourth in Reno and was the District and Regional champion," Sevigny said.
"His experience at State will be a huge step in preparing for next year."