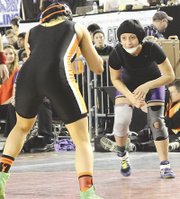 TACOMA - The Mabton wrestling teams this past weekend fared well at Mat Classic XXV, having two fourth-place finishers and a sixth-place finisher.
Viking Vicente Mireles would have been in contention for third-place honors in the boys 132-lb. classification, but he ran into Tanner Sample of Elma in the consolation finals.
"The kid (Sample) kept his hand around Vicente's head," said Mabton Coach John Kilian, noting Mireles tried to get out of a precarious situation and slammed the Stevenson grappler. That slam was deemed illegal by the officials, disqualifying Mireles. He settled for fourth-place honors.
"(Sample) hit pretty hard instead of protecting himself and letting go," said Kilian.
He said he felt Mireles was having a good match up until that point because the Viking decisioned Alec Brenan of Stevenson, 16-5, and Caleb Frey of Blaine, 14-0, in the opening two rounds of action.
In the third round Mireles was ahead by two points going into the last minute of the third period against Tyler Miler of Stevenson.
"He didn't bail out of a takedown," Kilian recalled, stating Miler scored four of his nine points in the last 40 seconds of the match with the takedown and a near-fall.
Mireles lost the semi-final bout to Miler by a 9-7 decision.
In the consolation rounds, Mireles defeated Ethan Visser of Cashmere by a 7-3 decision and moved into the bout against Sample to earn fourth-place honors.
For the girls team it was Mary Gutierrez who earned fourth-place honors in the 112-lb. weight class.
She pinned her first two opponents, Tori Barnes of Sedro Woolley and Laura Dittell of Foss.
However, Gutierrez suffered a fall in the semi-finals to Arian Carpio of Todd Beamer.
Carpio was the eventual titlist and Kilian was proud of Gutierrez for giving the match her best effort.
"Carpio came out and took it to her...she charged Mary like a mad bull," said Kilian, adding, "She wasn't playing around."
Gutierrez bounced back from the loss and defeated Cassie Edwards of Napa Vine with a pin in 2:47, but she was pitted against Viannei Perez of Grandview in the consolation finals.
"Mary faced her nemesis...Perez defeated her in the District and Regional finals," Kilian noted.
He said the bout for third and fourth-place at the State tournament "...fell in line with the past matches."
Perez and Gutierrez battled one another for points throughout all three periods of action. Perez was the eventual winner by a 4-3 decision.
"Mary needed a takedown to pull ahead, but just wasn't offensive enough," said Kilian, stating, "Perez is a smart wrestler."
Winning sixth-place honors for the Lady Vikes was Jazmin Mendoza.
She met Sara Sanchez of Washougal twice during Mat Classic XXV and both bouts were Mendoza's undoing.
Sanchez pinned Mendoza in the opening round of action in 5:33, but in the fifth/sixth-place bout Mendoza was able to hang on through all three periods.
Sanchez was the eventual winner of the 124-lb. fifth-place medal.
Mendoza had battled through the consolation matches from the second round of the tournament. She defeated Maggie Cox of Spanaway Lake by an 8-4 decision, earned a 7-6 decision over Alberta Garcia of Nooksack Valley and lost to Jessica Mata of Mt. Baker by pin in 2:25 before facing Sanchez for the final medal rounds.
"Jazmin kept fighting," said Kilian, noting Mendoza was on her back three times against Sanchez in the final bout. "She didn't give up."
One other Viking competed at State, Brandon Marquez (152 lbs.).
He didn't fare as well as his teammates, however. Marquez competed in just two matches before being eliminated from the competition.
"Brandon just didn't have a good day on Friday and came up short," said Kilian, noting the second match against Dylan Mann of Eatonville was going well until the final period.
That's when Mann scored all eight of his points against Marquez to win the bout 8-1.
"Brandon was trying some good moves and they just didn't pan out," said Kilian, noting the bracket was tough this year and some of the state's best wrestlers were eliminated early, including Ki-Be's Kris Young.
"We didn't have a big team, but we did as well or better than a lot of teams our size," said Kilian, stating he was proud of his three medalists.