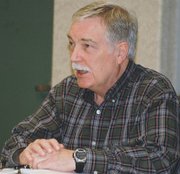 After months of wrangling, a groundwater advisory committee has agreed on a work plan for addressing contaminated groundwater in rural areas of the Lower Valley.
That was the message last night, Monday, to Port of Sunnyside commissioners by Bob Farrell, an engineer for the port who participates on the groundwater committee.
Farrell said the county's Groundwater Advisory Committee met on Feb. 6 and approved a formal work plan for submittal to the Department of Ecology.
The work plan was due to the state agency at the end of December 2012, but was extended so the committee could reach consensus.
The plan approved on Feb. 6 estimates a cost of $750,000 to $2.4 million to develop a groundwater program, Farrell notes.
The advisory committee will hold its regular monthly meeting this coming Thursday in Granger.
Farrell said for the most part members of the committee are working together. He said one point of disagreement, though, is whether nitrate contamination in Lower Valley groundwater is the result of recent agricultural practices or a remnant from farming practices of 50 or 60 years ago.
He says some that want further regulation on ag practices are claiming that nitrate contamination is happening because of current farm activities.
But Farrell said the county and state are now taking a closer look at a UC Irvine study showing that most of nitrate pollution is a "legacy" issue or the result of farming practices from long ago.
"The fact is what is in the groundwater is due to action that may have been done in the 40s or 50s," Farrell said. He added that farmers today are "conscientious" about pollutants and comply with far more environmental regulations than producers in the past faced.
In his report to commissioners last night, Farrell noted that "...many areas of the country are having to address similar issues of nitrate in the groundwater."
He said in response to ongoing research nationwide on the groundwater issue, the county has created a groundwater resource library at yakimacounty.us/gwma.