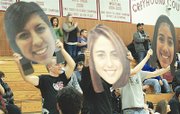 GRANDVIEW - With Payton Parrish and Marissa Caballero providing the one-two punch for the Grandview High School girls basketball team most of this season, 5'5" guard Breanna Lopez has often times gone unnoticed.
Not last night!
The GHS junior lit up the scoreboard for a game-high 21 points, 15 of them in the first quarter, sparking Grandview to a dominating 64-35 victory over visiting Pullman.
Lopez's eye-popping performance couldn't have come at a better time. Tuesday night's game, the Class 2A Regional tourney opener for both clubs, was a loser-out affair. For the visiting Pullman Greyhounds, their season now is at a close. Grandview's Greyhounds, on the other hand, advance to this coming Friday's winner-to-State Regional contest against the CWAC League and District champion Wapato Wolves.
Friday's loser-out game against the Wolfpack (20-2) is scheduled for 8 p.m. in Ellensburg at the Central Washington University gymnasium. Grandview (19-5) has posted a 3-1 record since the playoffs began and has won six of its last seven games.
In Grandview's two previous CWAC match-ups this season against Wapato, the Lady 'Hounds came up short both times, 51-42 and 52-45.
"It came down to two, two-and-a-half possessions in each of those games," said Grandview Coach David Gibb. "We get one more stop, hit one more basket, we win.
"The game (this Friday) will be possession by possession. We have to get out to a fast start. We played even in the second half of both those games, but started slow. We can't let them get ahead."
In earning the right to get to play for a State tourney berth this coming Friday, Grandview let Pullman know from the outset last night that the visitors were in for a long haul. The home team jumped out to a 21-9 first-quarter lead, extending the advantage to 35-17 by the time halftime rolled around.
Any doubt as to which team was moving on was settled right after intermission. The GHS girls pieced together a workman-like 22-12 run in the decisive third period to sew up the win.
In the final stanza, there were only 13 points total scored, seven of those by the winners. With Grandview up by 30 points, both coaches emptied their benches down the stretch.
It became clear early on that Pullman's game plan was to try and contain Grandview's top two scorers this season - Parrish and Caballero. The dynamic duo, who together regularly combine for anywhere from 40 to 50 points a game, got reined in somewhat, but still went off last night for a total of 28 points.
"They played a triangle-and-two on us," said Gibb. "But that left Breanna (Lopez) wide open. They weren't expecting us to be so effective from the outside and had to adjust."
Lopez, the diminutive, pint-sized guard, began exploiting the open areas of the floor from the opening whistle and quickly made her presence felt. She started the scoring with a bucket from treyland and sank three balls from beyond the three-point arc in the first quarter alone. When all was said and done, Lopez exploded for 21 points.
"She got us off to a really great start," said Gibb. "We only missed six shots in the first quarter. It was really something. Breanna has always been a good shooter, but this was one of those nights where everything she shot went in."
Grandview also got some pretty strong numbers, individually speaking, in other areas. Parrish, along with her 15 points, swiped the ball from Pullman's players five times and climbed the ladder for four rebounds. Caballero added a three-steal effort to go along with her 13 points.
Also stepping up big for the winners were Taylor Hall, who snared a team-high six rebounds and chipped in 4 points; and Hannah Pond, who contributed 7 points. Grandview, too, received a big boost from senior Karissa Trinidad. She dished a club-high six assists, collected four rebounds and scored 4 points.
"I'm happy for them," said Gibb of his team's performance. "I'm extremely proud of them."