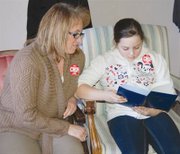 Reading the Bible is not an easy task for most people, and reading it in a single year can seem impossible.
But the Sunnyside Presbyterian Church has nearly 90 participants in an effort to read the Bible in 2013, including 10 from outside their congregation. Ages of the participants range from children to people in their 90s, and they all plan to finish by December.
The program they are using, "The Year of the Bible" by Dr. James Davison, divides the reading into chapters for each day, usually two from the Old Testament and one from the New Testament, and includes study questions.
"The books aren't in strict order," said George Barker, who has helped to organize the effort. "Psalms is spread out throughout the year, a couple each week."
The group has already read Genesis and Exodus in the Old Testament and is starting on Leviticus.
"It is a little difficult to get through," said Joyce Heeringa. "But we are making progress."
The group has also completed Matthew in the New Testament and are working on Acts. Different people use different versions of the Bible, and some read on computers or iPads or listen to audios of the chapters instead of reading.
"It's not too late for people to join," said Barker. "We all get behind, but we'll help you catch up."
The group still has books available for anyone who would like to start the program. To join, call the church office at 837-4314.
As part of the celebration of the Bible, the church is also presenting a free screening of "Joseph and the Amazing Technicolor Dreamcoat" on Sunday, Feb. 24, at 4 p.m. Popcorn and beverages will be provided.