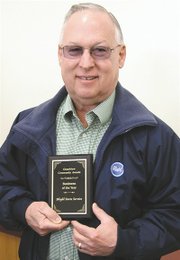 GRANDVIEW - Tuesday night's Grandview Community Awards banquet honored Bleyhl Farm Services and the city of Grandview.
The business of the year award was presented to General Manager Greg Robertson of Bleyhl Farm Services, and Mayor Norm Childress and City Administrator Cus Arteaga accepted the awards.
Bleyhl was recognized for providing a high level of community and customer support, supporting employees of the company and sponsoring community events.
Bleyhl Farm Services is headquartered in Grandview and generated sales of $76 million last year.
There are 135 individuals employed by the business at locations in Grandview, Sunnyside, Zillah, Toppenish and Pasco.
The company is involved with United Way, Rotary International and the Grandview Chamber of Commerce. It supports 4-H and FFA programs, the Yakima Valley Fair & Rodeo, Coats for Kids and numerous other organizations to benefit the communities it serves.
Bleyhl Farm Services was Tuesday also heralded for its donation to the new Grandview Library facility.
Cookie Shannon, emcee at Tuesday's event, said the Bleyhl employees also had accolades for the business and its support of those working at the various locations operated by Bleyhl Farm Services and its different divisions.
Robertson said, "Bleyhl is a great place to work. Our employees make positive contributions through their work and their community involvement."
Also Tuesday night, the community development award was presented to the city of Grandview for its continuing efforts at improving downtown, building a new community center and providing the Grandview Chamber of Commerce a visible home.
The city of Grandview has been before recognized for its efforts at improving economic development. At the 2010 community awards banquet the city received the mayor's beautification plaque, as well as the economic development award.